noun
The definition of an inspector is a police officer ranked below a police chief, a person in the fire department who is in charge of fire prevention, or a person who is entrusted with the authority to check something to determine quality.

A police officer who reports directly to the chief is an example of an inspector.
A fire department officer who reviews public building to make sure they are safe against fire is an example of an inspector.
A person who works in a factory and who checks the finished product to make sure that it lives up to the company's quality control standards is an example of an inspector.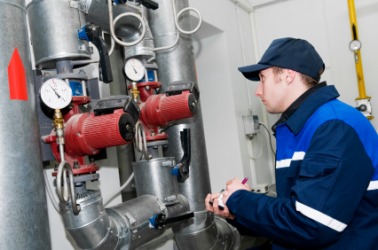 A heating inspector checks a boiler.
---
inspector
noun
a person who inspects; official examiner; overseer
an officer on a police force, ranking next below a superintendent or police chief
a fire department officer in charge of prevention of fires, as in public buildings
---
inspector
noun
Abbr.
ins.
or
insp.
One who is appointed or employed to inspect something.
A police officer ranking next below superintendent.
Related Forms:
in·spec′to·ral, in′spec·to′ri·al

adjective
---
inspector
---