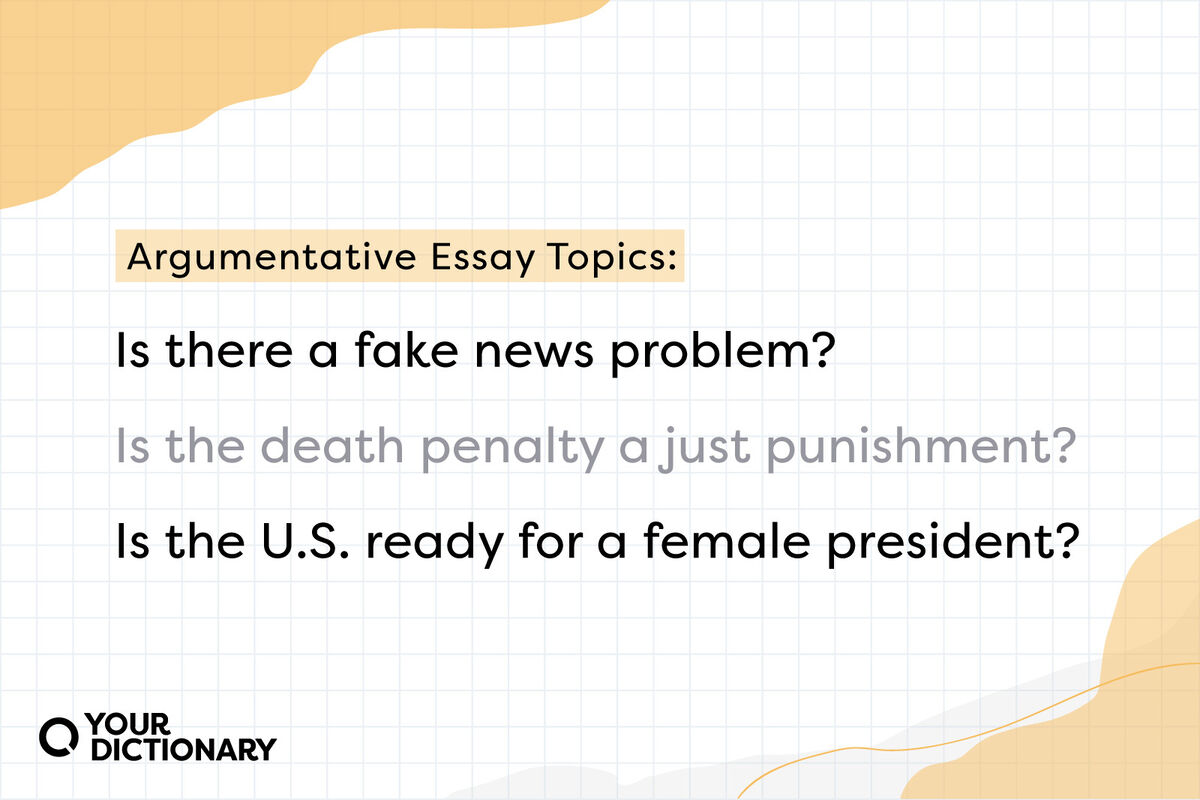 A great argumentative essay topic is one that sparks your interest and offers plenty of room for persuasive writing. Essentially, the more controversial the topic, the more it'll pop, and the easier it will be to take a strong stand for or against. Hot argument topics will leave people with a new opinion, a new perspective and a new appreciation of your writing skills.
Argumentative Essay Hot Topics
These top 10 hot topics for argumentative essays are sure to stir up a fire. Remember, you don't have to agree with the position you take to craft a winning argument, but you do have to make solid, logical arguments backed up by credible sources.
Should abortion be banned?
Should animal testing be stopped?
Is the #metoo movement a good thing?
Should manufacturers be responsible for the effects of the chemicals used in the creation of their products?
Should illegal immigrants be granted residency?
Is there a fake news problem? What is the source?
Does "big pharma" have people's best interests at heart?
Is the death penalty a just punishment?
Are there moral concerns that should make genetic cloning illegal?
What should people do to stop human trafficking?
Argumentative Essay Topics About Politics
Need more topics? Politics has always produced debates amongst even the most loving of friends and family. Look around the world right now, and you'll see political divisions deepening. Here are some interesting topics for exploration. Allow these argumentative essay writing tips to help you pull all your thoughts together into one, cohesive presentation.
Which political party has the right ideology?
What should be done to reduce income inequality?
Is paying down the national deficit the most important issue of our time?
Does the Federal Reserve need to stop printing money because it's creating an unsustainable bubble?
Is capitalism the best economic system?
Is socialism the best economic system?
Is America ready for a female president?
Should an elected leader represent the interests of his or her own political party, or is it better to try to compromise?
What recent political decision has created the most change?
Does campaign finance reform work?
Argumentative Essay Topics About Society & Culture
You can also choose an argumentative essay topic about society. Many people live according to their own moral code. Whether it's based on religion, philosophy or individual interests, everyone has a code of sorts. Consider what you might want to argue, from this list or your own personal experience with life.
Once an idea starts to take shape in your head, it's time to formulate your argumentative essay outline using the enclosed sample as a template for your inarguable stance.
When will LGTBQ individuals experience equality?
Is healthcare a basic human right?
Should TV censor explicit content because programmers have an obligation to produce family-friendly programming?
Social media simultaneously draws us together and pulls us apart; does the good outweigh the bad or vice versa?
Is a gap year precious time for exploration and reflection or a year-long vacation?
Some states have begun to decriminalize the possession of certain drugs like marijuana; is this a good idea?
Equality is part of lawmaking, but does it work in practice?
Should people have the right to own a gun?
In cases of terminal illness, should a patient be able to request medically-assisted suicide?
Should smoking be illegal?
What is the best way to encourage positive conversation about contentious issues?
Argumentative Essay Topics About History
If you're studying history or simply enjoy it as a subject, you can find plenty of great argumentative essay topics about this subject. Try one of the following.
Many people think we should learn from the past, but there are sometimes patterns in history. Do you think history repeats itself?
How did the United States Civil War make the country better or worse?
Thomas Jefferson made significant contributions to the founding of America, both as a writer and a politician. However, he didn't live a perfect life. Was he a hero?
Does our modern perspective change the "truth" of what happened during major historical events?
Pick a past decade and discuss if immigrants and lower socio-economic classes had opportunities at that time.
America was reluctant to get involved in World War I, and when they did, many American soldiers lost their lives. Was this a necessary war for America?
How did the treatment of Native Americans leave a moral stain on the United States?
Slavery was a fundamental part of the American colonies and later, the United States. How did this injustice change the country?
What factors contributed to the rise of Naziism in Germany and to the Holocaust? How can these horrors be avoided in the future?
The plague decimated the population of Europe and changed the course of history. What was its biggest impact?
More Argumentative Essay Topics for Every Age
Writing an argumentative essay is a great exercise, whether students are in elementary school, middle school, high school, or college. The key is finding topics that interest students and inspire passionate debate. These are some strong topics for every age group.
Argumentative Essay Topics for Kids in Elementary School
The following topics are perfect for elementary school students.
Should there be commercials in children's programs?
Does homework help kids learn?
Should school go year-round?
How can school be fairer for kids from different backgrounds?
Do schools treat boys and girls the same way?
Should parents limit screen time?
Should school start before eight o'clock in the morning?
Should kids be able to vote in national elections?
Is it better to read fiction or nonfiction?
Is it better for kids to have distance-learning or be in school?
Do parents treat all their children the same way, or do they treat the oldest and youngest differently?
Should kids have the same teacher every year or switch teachers each year?
Should video games be a sport?
Are schools doing enough to stop bullying?
Should kids have homework on weekends?
Is it better if three generations of a family live together?
Are hot dogs bad for you?
Should school lunch include vegetables, even if some kids don't like them?
Are the rules at school fair?
Is it okay to eat dessert before dinner?
Argumentative Essay Topics for Middle School
Middle schoolers are becoming more aware of society and the culture around them. These argumentative essay topics are perfect for this age group.
Should middle schoolers have jobs like babysitting or mowing lawns?
Are beauty pageants a good idea?
Are violent video games bad?
Should parents be able to say whether kids can dye their hair?
Does social media do more harm than good?
Do middle schoolers have too much homework?
Does homework help kids learn?
Should teachers get paid more?
Is life more challenging for your generation or your parents'?
Why is your favorite musician better than anyone else?
Should kids read age-appropriate books, or is it okay to read grown-up books?
Should there be ratings (like G, PG, and R) for movies?
Is it better to ride the bus or walk to school?
Is school lunch good for kids?
Do you think an hour of reading or an hour of exercising is more beneficial?
Should gym class be required?
Should kids get paid for getting good grades?
Is it better to have class over the computer or in person?
Is cyberbullying as big a problem as in-person bullying?
Should all cars be electric?
Argumentative Essay Topics for High School
By high school, students should be able to craft a detailed argumentative essay if they have the right topic. These ideas will get high school students inspired.
Should people be allowed to burn the flag?
Should parents get in trouble for truancy if kids don't go to school?
Is social media bad for relationships?
Should companies be required to hire a diverse staff?
Are women and men treated equally in your society?
Should the minimum wage be raised?
Should every student go to college?
Is climate change a real threat?
Are wind farms a benefit to the environment and economy?
Should people be allowed to wear fur coats?
Is it a bad idea to sample your DNA for genealogy?
Should parents be able to say they don't want medical treatment for their kids?
Is the United States falling behind other countries in terms of education?
Do the actions of a country's leader influence the actions of the people?
Should the electoral college be abolished?
Should schools be required to offer art courses?
Should all new cars be electric?
Will artificial intelligence help the world or hurt it?
Should high school students work during the school year?
Are there forms of personal expression that shouldn't be allowed in schools?
Argumentative Essay Topics for College
College students need argumentative essay topics that offer room to really build a strong argument and support it with research. These are some ideas.
Are men and women equally emotional?
Are printed books better than e-readers?
Should the drinking age be lowered?
Are parents responsible for childhood obesity?
Should college be free of charge?
Should beauty standards be more inclusive?
Are all college majors equally important?
Is social media bad for children?
Has technology changed our definition of magic?
Is it worth exploring space?
Should all internships be paid?
Should income be tied to the cost of a degree?
Is climate change the most serious threat to the world?
Is feminism still important?
Has society made the necessary reparations for slavery?
Should elections be decided by popular vote?
Are all people entitled to free health care?
Do anti-discrimination laws do enough to protect disabled students?
Is a degree from an online college as legitimate as a degree from a brick-and-mortar school?
Is it a conflict of interest for a professor to require students to purchase his book?
These argumentative essay topic ideas should offer plenty of inspiration. Argumentative essays are so much fun because you not only have to take a firm stance but also rebut the opposing viewpoint. Addressing a potential rebuttal from the opposition will make your argument stronger. It demonstrates you're not blind to the issue and are prepared to stand strong.
The closest kin to the argumentative essay is the persuasive essay. If you're assigned such a task, take a look at persuasive essay writing made easy. It'll walk you through each and every step to success.