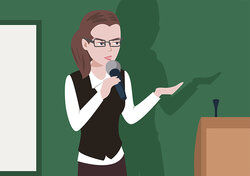 When writing an argumentative essay outline, it's important to have all of your facts straight. More than any other type of essay, you need to have solid and verifiable sources from which you can draw your information. Using the simple formula below, you'll be able to organize your assertions and craft a moving argument on almost any essay topic.
Simple Argumentative Essay Outline
A simple argument essay outline begins with a hot button topic. Pick a stance you'll feel confident and passionate about. If you're unsure of the best topic, try viewing argumentative essay examples. Something listed there might spark a fire in you.
Once you have your topic, you'll want to use these four simple steps to start writing.
1. Introductory Paragraph
This is where you'll introduce your topic. The intro has three main elements.
Hook: Your opening lines are known as your hook. Knowing how to write a hook is what will draw your reader to the end.
Body: You can expand this type of generalized "setup" with another sentence or two.
Thesis Statement: The end of your introductory paragraph contains one very important element: your thesis statement. This will close the first paragraph on a strong point and set up the body of the essay. Every point you make within the body of your essay must relate back to your thesis statement. Thesis statement examples can give you inspiration, too.
In the body of your essay, you'll present a series of supporting details to defend your argument. This can include any or all of the following:
evidence
facts
statistics
brief narratives
quotations
The best way to visualize the body of your argumentative essay is to commit to three claims and back them up.
Narratives are another nice avenue, in terms of evidence. You can share someone's testimony or even your own.
Argumentative essays are heftier than other essays. In an informative essay or a persuasive essay, you may choose to stick to one side of the discussion.
In an argumentative essay, you must address the opposing side's opinions on the matter. Believe it or not, this will make your own argument stronger. It demonstrates you're not blind to the issue and are prepared to stand strong. Here, you'll state an opposing view (or more) and then refute it. You might use pathos, ethos, and logos to do this.
The conclusion is where you'll summarize the main idea of your argument. In a way, it's a mirror of your thesis statement. Of course, you don't want to repeat your thesis statement word-for-word, but it can be similar. Summarize your claims as concisely as possible and then close the essay. You can end with a rhetorical question or thought-provoking statement.
Check out this downloadable outline to see how you create an argumentative essay in action. And, the document is totally editable.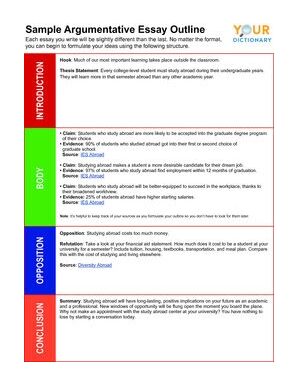 When creating an argumentative essay, you'll want to remember the following:
Present your argument clearly and without ambiguity.
Provide background information and substantiate it with facts.
State your claims and support them with facts.
Move on to opposing arguments and your responses to them.
Stand Strong in Your Convictions
Although argumentative essays are full of facts, statistics, and data, they are opinion-based. The thing about opinions is that not everyone's going to agree with you. That's why it's important to stand strong in your convictions and do your research. This will allow you to feel confident that you're not stepping out in ignorance on a hot button topic.
Now that you have a solid outline under your belt, check out these argumentative essay writing tips. They'll help you paint a strong picture that will be difficult to refute.