restrict

re·strict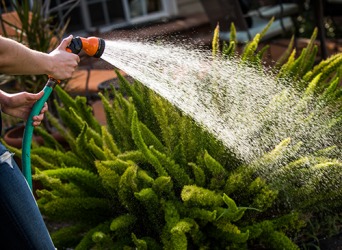 The water hose nozzle restricts the flow of water to a gentle spray so the plants won't get damaged.
verb
Restrict is defined as to keep someone or something within certain limits.

An example of restrict is walking a dog on a leash.
---
restrict
to keep within certain limits; put certain limitations on; confine
Origin of restrict
from Classical Latin
restrictus,
past participle of
restringere:
see restrain
---
restrict
transitive verb
re·strict·ed, re·strict·ing, re·stricts
To keep or confine within physical limits: The inmates are restricted to their cells for 23 hours each day. Food consumption is restricted to the cafeteria.
To prevent or prohibit beyond a certain limit or by restriction: The law restricts the use of pesticides. The program restricts unauthorized users from accessing the data. See Synonyms at limit.
Origin of restrict
Latin
restringere
restrict-
re-
re-
stringere
to draw tight
; see
streig-
in Indo-European roots.
Related Forms:
re·stric′tor re·strict′er

noun
---
restrict

Verb
(third-person singular simple present restricts, present participle restricting, simple past and past participle restricted)
To restrain within bounds; to limit; to confine; as, to restrict worlds to a particular meaning; to restrict a patient to a certain diet.
Adjective
(comparative more restrict, superlative most restrict)
(obsolete) Restricted.
Origin
From Latin restrictus, perfect passive participle of restringō ("draw back tightly; restrain, restrict"), from re- ("back, again") + stringō ("press, tighten, compress").
---