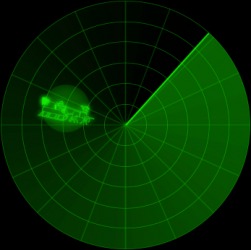 Santa shows as a blip on the radar.
noun
The definition of a blip is a quick or small image or sound, particularly seen on a radar screen.

An example of a blip is a quick little beep.
verb
Blip means to make a short sound or tiny image.

An example of blip is to make a tiny and quick beeping sound.
---
blip
a luminous image on an oscilloscope, as one on a radar screen showing the location of an aircraft, ship, etc.
a quick, sharp sound
a slight change or variation
a brief, temporary interruption
Origin of blip
echoic of a brief sound
intransitive verb
blipped

,

blip′ping
to make a blip or series of blips
---
blip
noun
A spot of light on a radar or sonar screen indicating the position of a detected object, such as an aircraft or a submarine. Also called pip 3.
A high-pitched electronic sound; a bleep.
A transient sharp upward or downward movement, as on a graph.
A temporary or insignificant phenomenon, especially a brief departure from the normal: "The decline in the share of GNP going to health … appears to be a one-time blip in the historic trend rather than the start of a new trend" ( Atlantic )
transitive verb
blipped, blip·ping, blips
To bleep.
Origin of blip
Imitative
---
blip

Verb
(third-person singular simple present blips, present participle blipping, simple past and past participle blipped)
---
blip - Computer Definition
(1) An individual Google Wave message. See Google Wave.
(2) A mark, line or spot on a medium, such as microfilm, that is optically sensed and used for timing or counting purposes.
---