verb
The definition of adopt is to willingly take one into a relationship, particularly in the case of an orphaned child.

An example of adopt is to permanently take in a kitten from a shelter.

Adopt is defined as to accept an idea or to choose and follow a course of action.

An example of adopt is to accept and implement a plan presented to a committee.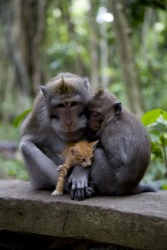 A pair of monkeys adopt a kitten.
---
adopt definition by Webster's New World
transitive verb
to choose and bring into a certain relationship; specif., to take into one's own family by legal process and raise as one's own child
to take up and use (an idea, a practice, etc.) as one's own
to choose and follow (a course)
to vote to accept (a committee report, motion, etc.)
to select as a required textbook
Origin: Classical Latin adoptare ; from ad-, to plush optare, to choose
---
adopt definition by American Heritage Dictionary
transitive verb
a·dopt·ed
,
a·dopt·ing
,
a·dopts
To take into one's family through legal means and raise as one's own child.

a. To take and follow (a course of action, for example) by choice or assent: adopt a new technique.

b. To take up and make one's own: adopt a new idea.

To take on or assume: adopted an air of importance.
To vote to accept: adopt a resolution.
To choose as standard or required in a course: adopt a new line of English textbooks.
Origin: Middle English adopten, from Old French adopter, from Latin adoptāre : ad-, ad- + optāre, to choose.
Related Forms:
Usage Note:
Children are adopted by parents, and one normally refers to an
adopted
child but to
adoptive
parents, families, and homes. When describing places, one can use either
adopted
or
adoptive:
She enjoys living in her adopted country. Detroit is their adoptive city.