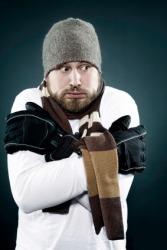 This man clearly has a chill.
adjective
The definition of chill is somewhat cold or not friendly.

An example of chill used as an adjective is the phrase a "chill breeze" which means a breeze that is moderately cold.
An example of chill used as an adjective is the phrase a "chill personality" which means a person who is standoffish.
noun
A chill is defined as a feeling of coldness or a sudden feeling of fear, dread or disappointment.

An example of a chill is a cold breeze blowing through a house.
An example of a chill is a sudden frightful feeling after hearing a horror story.
verb
To chill is defined as to become or make cold.

An example of to chill is to put dough in the fridge overnight.
---
chill
a feeling of coldness that makes one shiver; uncomfortable coolness
a moderate coldness
a damper on enthusiasm; discouraging influence
a feeling of sudden fear, apprehension, etc.
coolness of manner; unfriendliness

Metallurgy

a cooled iron mold placed in contact with that part of a casting which is to be cooled rapidly and thus hardened on the surface
Origin of chill
Middle English
chile
from Old English
ciele
, coldness from Germanic an unverified form
kal-
, to be cold from Indo-European base an unverified form
gel-
, cold from source Classical Latin
gel-
in
gelidus
, icy
to become cool or cold
to be seized with a chill; shake or shiver, as with cold or fear

Slang

: usually with out

to rest or relax
to calm down: usually used in the imperative

Metallurgy

to become hardened on the surface by rapid cooling
to make cool or cold
to cause a chill in
to check (enthusiasm, etc.)
to depress; dispirit

Metallurgy

to harden (metal) on the surface by rapid cooling
---
chill
noun
A moderate but penetrating coldness.
A sensation of coldness, often accompanied by shivering and pallor of the skin.
A checking or dampening of enthusiasm, spirit, or joy: bad news that put a chill on the celebration.
A sudden numbing fear or dread.
adjective
Moderately cold; chilly: a chill wind.
Not warm and friendly; distant: a chill greeting.
Discouraging; dispiriting: "Chill penury repressed their noble rage" ( Thomas Gray )
verb
chilled, chill·ing, chills
verb
transitive
To affect with or as if with cold.
To lower in temperature; cool.
To make discouraged; dispirit.
Metallurgy To harden (a metallic surface) by rapid cooling.
verb
intransitive
To be seized with cold.
To become cold or set: jelly that chills quickly.
Metallurgy To become hard by rapid cooling.
Slang

a. To calm down or relax. Often used with out.

b. To pass time idly; loiter. Often used with out.

c. To keep company; see socially. Often used with out.
Origin of chill
Middle English
chile
from
Old English
cele
; see
gel-
in Indo-European roots.
Related Forms:
---
chill

Noun
(plural chills)
A moderate, but uncomfortable and penetrating coldness.

There was a chill in the air.

A sudden penetrating sense of cold, especially one that causes a brief trembling nerve response through the body; the trembling response itself; often associated with illness: fevers and chills, or susceptibility to illness.

Close the window or you'll catch a chill.   I felt a chill when the wind picked up.

An uncomfortable and numbing sense of fear, dread, anxiety, or alarm, often one that is sudden and usually accompanied by a trembling nerve response resembling the body's response to biting cold.

Despite the heat, he felt a chill as he entered the crime scene.   The actor's eerie portrayal sent chills through the audience.   His menacing presence cast a chill over everyone.

An iron mould or portion of a mould, serving to cool rapidly, and so to harden, the surface of molten iron brought in contact with it.

The hardened part of a casting, such as the tread of a carriage wheel.
Adjective
(comparative more chill, superlative most chill)
(slang) Calm, relaxed, easygoing. See also: chill out.

I'm pretty chill most of the time.
Paint-your-own ceramics studios are a chill way to express yourself while learning more about your date's right brain.
Verb
(third-person singular simple present chills, present participle chilling, simple past and past participle chilled)
To lower the temperature of something; to cool.

Chill before serving.

(intransitive) To become cold.

In the wind he chilled quickly.

(intransitive, metallurgy) To become hard by rapid cooling.
(intransitive, slang) To relax, lie back.

Chill, man, we've got a whole week to do it; no sense in getting worked up.
The new gym teacher really has to chill or he's gonna blow a gasket.

(intransitive, slang) To "hang", hang out; to spend time with another person or group. Also chill out.

Hey, we should chill this weekend.

(intransitive, slang) To smoke marijuana.

On Friday night do you wanna chill?
Abbreviations
(computing) an acronym for CCITT High Level Language
---