adjective
The definition of chill is somewhat cold or not friendly.

An example of chill used as an adjective is the phrase a "chill breeze" which means a breeze that is moderately cold.
An example of chill used as an adjective is the phrase a "chill personality" which means a person who is standoffish.
noun
A chill is defined as a feeling of coldness or a sudden feeling of fear, dread or disappointment.

An example of a chill is a cold breeze blowing through a house.
An example of a chill is a sudden frightful feeling after hearing a horror story.
verb
To chill is defined as to become or make cold.

An example of to chill is to put dough in the fridge overnight.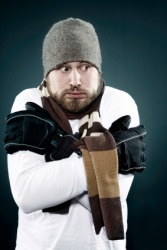 This man clearly has a chill.
---
chill definition by Webster's New World
noun
a feeling of coldness that makes one shiver; uncomfortable coolness
a moderate coldness
a damper on enthusiasm; discouraging influence
a feeling of sudden fear, apprehension, etc.
coolness of manner; unfriendliness

Metallurgy

a cooled iron mold placed in contact with that part of a casting which is to be cooled rapidly and thus hardened on the surface
Origin: Middle English chile ; from Old English ciele, coldness ; from Germanic an unverified form kal-, to be cold ; from Indo-European base an unverified form gel-, cold from source Classical Latin gel- in gelidus, icy
intransitive verb
to become cool or cold
to be seized with a chill; shake or shiver, as with cold or fear
☆

Slang

: usually with out

to rest or relax
to calm down: usually used in the imperative

Metallurgy

to become hardened on the surface by rapid cooling
transitive verb
to make cool or cold
to cause a chill in
to check (enthusiasm, etc.)
to depress; dispirit

Metallurgy

to harden (metal) on the surface by rapid cooling
Webster's New World College Dictionary Copyright © 2010 by Wiley Publishing, Inc., Cleveland, Ohio. Used by arrangement with John Wiley & Sons, Inc.
---
chill definition by American Heritage Dictionary
noun
A moderate but penetrating coldness.
A sensation of coldness, often accompanied by shivering and pallor of the skin.
A checking or dampening of enthusiasm, spirit, or joy: bad news that put a chill on the celebration.
A sudden numbing fear or dread.
adjective
Moderately cold; chilly: a chill wind.
Not warm and friendly; distant: a chill greeting.
Discouraging; dispiriting: "Chill penury repressed their noble rage" (Thomas Gray).
verb
chilled
,
chill·ing
,
chills
verb
, transitive
To affect with or as if with cold.
To lower in temperature; cool.
To make discouraged; dispirit.
Metallurgy To harden (a metallic surface) by rapid cooling.
verb
, intransitive
To be seized with cold.
To become cold or set: jelly that chills quickly.
Metallurgy To become hard by rapid cooling.
Slang

a. To calm down or relax. Often used with out.

b. To pass time idly; loiter. Often used with out.

c. To keep company; see socially. Often used with out.
Origin: Middle English chile, from Old English cele; see gel- in Indo-European roots.
Related Forms:
Our Living Language
In the 1980s and 1990s,
chill
gained currency as a slang term meaning "to relax, calm down." It is first recorded in 1979 and comes from Black English slang, which has frequently been a source of slang and informal words in Standard English, often through the medium of various African-American musical styles (in this case, rap and hip-hop). In fact, the word
chill
has had several incarnations as a slang term both inside and outside Black English. An older slang sense, recorded first in the 1870s, has been "to lose interest (in something), sour (on something)." Since the late 1920s it has also been used transitively to mean "to quash" and even "to kill." The recent use in the sense "to calm down" is another example of slang's innovativeness: English has always used words referring to heat and cold metaphorically to refer to emotions, and has used
cool
to refer to calmness since Old English times.
Chill
is a novel way of saying
cool down,
an old metaphor. The semantic evolution of
chill
continues as this is being written; the new sense of "to relax" has even more recently been extended to mean "to relax among friends, socialize."
Chill
thus offers a good example of how living languages are constantly changing in ways that are at once unpredictable and immediately comprehensible.
The American Heritage® Dictionary of the English Language, 4th edition Copyright © 2010 by Houghton Mifflin Harcourt Publishing Company. Published by Houghton Mifflin Harcourt Publishing Company. All rights reserved.
---
chill - Medical Definition
noun
A feeling of cold, with shivering and pallor, sometimes accompanied by an elevation of temperature in the interior of the body.