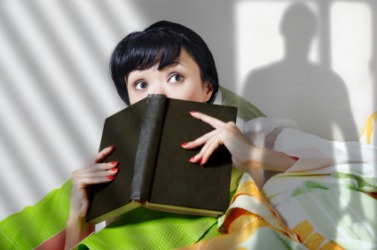 The chiller the woman is reading is causing her to imagine things.
noun
The definition of a chiller is something that produces cold, or a scary story or movie involving violent evil or the supernatural.

An example of a chiller is a freezer.
An example of a chiller is Frankenstein.
---
chiller
a person or thing that chills

Informal

a novel, film, etc. with a frightening, often weird or supernatural, theme, as involving psychopathic murder, vampires, etc.
---
chiller
noun
One that chills.
A frightening story, especially one involving violence, evil, or the supernatural; a thriller.
---
chiller

Noun
(plural chillers)
Something that chills, especially a machine that produces cold air, either for air conditioning, to prepare chilled foods etc.
A frightening dramatic work, such as a book or film
---