reticent

ret·i·cent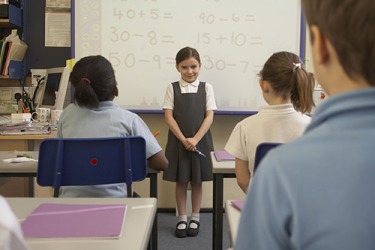 Even though Brittany is a reticent student, she enjoys school very much.
adjective
The definition of reticent is inclined to not speak or restrained or quiet in style.

An example of reticent is a student who never raises her hand or answers a question in class.
---
reticent
silent or uncommunicative; disinclined to speak readily, often, specif., habitually so
having a restrained, quiet, or understated quality
Origin of reticent
Classical Latin
reticens,
present participle of
reticere,
to be silent from
re-,
again +
tacere,
to be silent: see tacit
---
reticent
adjective
Inclined to keep one's thoughts, feelings, and personal affairs to oneself. See Synonyms at laconic.
Restrained or reserved: "The laughter was steady, if reticent" ( Bernard Lown )
Usage Problem Reluctant; unwilling.
Origin of reticent
Latin
reticēns
reticent-
present participle of
reticēre
to keep silent
re-
re-
tacēre
to be silent
Related Forms:
Usage Note: Reticent is generally used to indicate a reluctance to speak. Most commentators on usage have criticized its extended use as an all-purpose synonym for reluctant. In our 2001 survey, 83 percent of the Panel found unacceptable the sentence A lot of out-of-towners are reticent to come to the Twin Cities for a ballgame if there's a chance the game will be rained out.
---
reticent

Origin
Latin reticens, present participle of reticere ("to keep silence"); re- + tacere ("to be silent").
---