hot
[

hät

]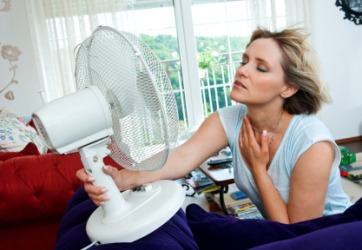 A woman tries to cool off on a hot day.
adjective
The definition of hot is something that is very warm in temperature. It can also be used to refer to something that is currently very popular or trendy.

An example of hot is a 90 degree day.
An example of hot is the latest fashion style.
---
hot
adjective
hotter, hottest
having a high temperature, esp. one that is higher than that of the human body
characterized by a relatively or abnormally high temperature; very warm
feeling uncomfortably overheated

producing a burning sensation in the mouth, throat, etc.: hot pepper
full of or characterized by any very strong feeling, or by intense activity, speed, excitement, etc.; specif.,

impetuous; fiery; excitable: a hot temper
violent; raging; angry: a hot battle, hot words
full of enthusiasm; eagerly intent; ardent
inflamed with sexual desire; lustful
very controversial

Informal

very lucky or effective: a hot streak in gambling

following or pressing closely: in hot pursuit
close to what is being sought: said of the seeker

☆ as if heated by friction; specif.,

electrically charged, esp. with a current of high voltage: a hot wire
highly radioactive

designating or of color that suggests heat, as intense red, orange, etc.

Informal

that has not had time to lose heat, freshness, currency, etc.; specif.,

recently issued or announced: hot news
just arrived: hot from the front
clear; intense; strong: a hot scent
☆ recent and from an inside source: a hot tip
currently very popular: a hot recording

☆

Slang

recently stolen
contraband
sought by the police
dangerous or risky for use as a hiding place

Slang

excellent, good, funny, etc.: a general term of approval
very skillful or successful
sexually attractive or exciting

☆

Jazz

designating or of highly emotional music or playing characterized by exciting rhythmic and tonal effects and an insistent, driving beat
thrown or batted hard or with great speed: said of a ball
Origin of hot
Middle English ; from Old English
hat
, akin to German
heiss
, Gothic
heito
, fever ; from Indo-European base an unverified form
kai-
, heat from source Lithuanian
kaistù
, to become hot
(all) hot and bothered
Slang
flustered, excited, etc.
get hot
☆
Slang
to act, perform, etc. with great spirit or enthusiasm
hot under the collar
Slang
extremely angry or provoked
make it hot for
Informal
to make things difficult or uncomfortable for
---
hot
adjective
hot·ter
,
hot·test
a. Having or giving off heat; capable of burning.

b. Being at a high temperature.

Being at or exhibiting a temperature that is higher than normal or desirable: a hot forehead.
Causing a burning sensation, as in the mouth; spicy: hot peppers; a hot curry.

a. Charged or energized with electricity: a hot wire.

b. Radioactive or designed to use radioactive materials.

a. Marked by intensity of emotion; ardent or fiery: a hot temper.

b. Having or displaying great enthusiasm; eager: hot for travel.

a. Informal Arousing intense interest, excitement, or controversy: a hot new book; a hot topic.

b. Informal Marked by excited activity or energy: a hot week on the stock market.

c. Violent; raging: a hot battle.

Slang

a. Sexually attractive.

b. Sexually attracted; full of desire: In this week's show, the surgeon is really hot for the new intern.

c. Sexually aroused.

Slang

a. Recently stolen: a hot car.

b. Wanted by the police: a hot suspect.

Close to a successful solution or conclusion: hot on the trail.
Informal

a. Most recent; new or fresh: a hot news item; the hot fashions for fall.

b. Currently very popular or successful: one of the hottest young talents around.

c. Requiring immediate action or attention: a hot opportunity.

Slang Very good or impressive. Often used in the negative: I'm not so hot at math.
Slang Funny or absurd: told a hot one about the neighbors' dog.
Slang

a. Performing with great skill and daring: a hot drummer.

b. Having or characterized by repeated successes: a player who is on a hot streak.

c. Fast and responsive: a hot sports car.

d. Unusually lucky: hot at craps.

Music Of, relating to, or being an emotionally charged style of performance marked by strong rhythms and improvisation: hot jazz.
Bold and bright.
noun
hots
Slang Strong sexual attraction or desire. Used with the.
adverb
In a hot manner; hotly.
While hot: foods that are best eaten hot.
transitive verb
hot·ted
,
hot·ting
,
hots
Informal To cause to increase in intensity or excitement. Often used with up: "His book is an exercise in the fashionable art of instant history, in which every episode is hotted up with an anecdote" (Harper's).
Origin of hot
Middle English, from Old English
hāt
; see
kai-
in Indo-European roots.
Related Forms:
---
hot
Acronym
Hybrid orientation technique
High-output turbo
---
hot - Computer Definition
---