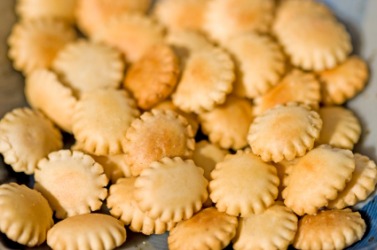 Oyster crackers might be considered bland.
adjective
The definition of bland is something that is lacking in flavor.

An oyster cracker is an example of bland.
---
bland
pleasantly smooth in manner; suave
mild and soothing; not sharp, harsh, etc.: bland medicine
tasteless, insipid, dull, etc.
Origin of bland
Classical Latin
blandus,
mild, probably from Indo-European base an unverified form
m?du-,
soft, variant, variety of an unverified form
mel-
: see mill
bland out
Informal
to remove or omit distinctive characteristics; make or become vapid
---
bland
adjective
bland·er, bland·est
Characterized by a moderate, unperturbed, or tranquil quality, especially:

a. Pleasant in manner; smooth: a bland smile.

b. Not irritating or stimulating; soothing: a bland diet.

c. Exhibiting no personal worry, embarrassment, or concern: told a series of bland lies.

a. Dull and insipid: a bland little drama.

b. Having little or no distinctive flavor: bland cooking.
Origin of bland
Latin
blandus
caressing, flattering
; see
mel-
1
in Indo-European roots.
Related Forms:
---
bland

---