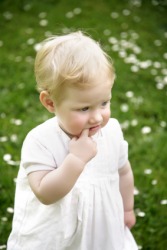 A little girl with blond hair. A blonde.
adjective
Blond is defined as having a light color, particularly a light yellow shade.

An example of someone blond was Marilyn Monroe.
noun
The definition of blond is a person with very light colored hair.

An example of a blond is Christina Aguilera.
---
blond
very light in color: blond hair
having light-colored hair, often with fair skin and blue or gray eyes
finished in a light tone: blond wood
Origin of blond
Late Middle English
blounde
from Middle French
blond
from Old French from uncertain or unknown; perhaps Germanic an unverified form
blund
---
blond
also blonde
adjective
blond·er, blond·est
Having fair hair and skin: blond Scandinavians.
Of a flaxen or golden color or of any light shade of auburn or pale yellowish brown: blond hair.
Light-colored through bleaching: blond furniture.
noun
A person with fair hair and skin.
A light yellowish brown to dark grayish yellow.
Origin of blond
Middle English
blounde
from
Old French
blonde
of Germanic origin
; see
bhel-
1
in Indo-European roots.
Related Forms:
---
blond

Noun
(plural blonds)
A person of fair hair.
Usage notes
This word can vary according to gender, with "blond" being used of males and "blonde" of females, following French usage.
Some writers, especially in the US, treat the spellings as interchangeable or use blond gender-neutrally.
Traditional terms for light hair are "fair(-haired)", "fairheaded", "flaxen", "tow-haired", and "towhead(ed)".
Adjective
(comparative blonder or more blond, superlative blondest or most blond)
Of a bleached or pale golden (light yellowish) colour.

blond hair
blonde ale; blonde beer

2011 Feb, "Beauty Confessions", Redbook, volume 216, number 2, page 60: 

If you're going one or two shades lighter, don't even touch your brows. But if you're making a big change, soften them by tinting them with home haircolor: a lighter shade of brown for blonder shades, a golden shade if you're dyeing your hair red.

(of a person) Having blond hair.
Origin
From Middle French blond m, from Old French blond, blont, from Frankish *blund ("a mixed color between golden and light-brown"), from Proto-Germanic *blundaz ("mixed, blinding"), from Proto-Indo-European *bʰlendʰ- ("to become turbid, see badly, go blind"). Compare Old English blondenfeax ("grey-haired"), Old English blandan ("to mix"). More at blend.
Alternative etymology connects Frankish *blund to Proto-Germanic *blundaz ("blond"), from Proto-Indo-European *bʰl̥ndʰ-, *bʰlendʰ- ("blond, red-haired"). Cognate with Sanskrit ब्रध्न (bradhná, "ruddy, pale red, yellowish").
---