adjective
Blond is defined as having a light color, particularly a light yellow shade.

An example of someone blond was Marilyn Monroe.
noun
The definition of blond is a person with very light colored hair.

An example of a blond is Christina Aguilera.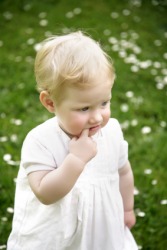 A little girl with blond hair. A blonde.
---
blond definition by Webster's New World
adjective
very light in color: blond hair
having light-colored hair, often with fair skin and blue or gray eyes
finished in a light tone: blond wood
Origin: Late Middle English blounde ; from Middle French blond ; from Old French ; from uncertain or unknown; perhaps Germanic an unverified form blund
Webster's New World College Dictionary Copyright © 2010 by Wiley Publishing, Inc., Cleveland, Ohio. Used by arrangement with John Wiley & Sons, Inc.
---
blond definition by American Heritage Dictionary
also blonde
adjective
blond·er
,
blond·est
Having fair hair and skin and usually light eyes: blond Scandinavians.
Of a flaxen or golden color or of any light shade of auburn or pale yellowish brown: blond hair.
Light-colored through bleaching: blond furniture.
noun
A person with fair hair and skin and usually light eyes.
A light yellowish brown to dark grayish yellow.
Origin: Middle English blounde, from Old French blonde, of Germanic origin; see bhel-1 in Indo-European roots.
Related Forms: