yellow

yel·low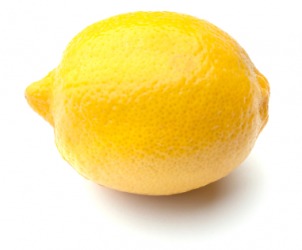 This lemon is yellow.
adjective
The definition of yellow is of the color between orange and green on the spectrum which is a buttery, golden shade.

An example of something yellow is a lemon.
noun
Yellow is a lemony color between orange and green on the spectrum.

An example of yellow is the color of the sun.
---
yellow
of the color of gold, butter, or ripe lemons
changed to a yellowish color as by age, as old paper
having a yellowish pigmentation of the skin

Informal

cowardly; craven

Origin of yellow

see yellow journalism cheaply sensational: said of certain newspapers
Origin of yellow
Middle English
yelwe
from Old English
geolu,
akin to German
gelb
from Indo-European base an unverified form
?hel-,
to gleam, yellow, green, blue from source Classical Greek
cholos,
gall, Classical Latin
helvus,
tawny
a yellow color; color lying between orange and green in the color spectrum
a pigment or dye that is yellow or capable of producing yellow
the yolk of an egg
[pl.] any of several fungous or viral diseases of plants, causing yellowing of the leaves, stunting of growth, etc.
[pl.] jaundice, esp. in farm animals
---
yellow
noun
a. The hue of that portion of the visible spectrum lying between orange and green, evoked in the human observer by radiant energy with wavelengths of approximately 570 to 590 nanometers; any of a group of colors of a hue resembling that of ripe lemons and varying in lightness and saturation; one of the subtractive primaries; one of the psychological primary hues.

b. A pigment or dye having this hue.

c. Something that has this hue.

Chiefly Southern US The yolk of an egg.
Western US Gold. Used formerly by prospectors.
yellows Any of various plant diseases characterized by yellow or yellowish discoloration of the leaves and caused by phytoplasmas that are transmitted by insects or by certain viruses.
adjective
yel·low·er, yel·low·est
Of the color yellow.

a. Having a yellow-brown skin color.

b. Offensive Of or being a person of Asian origin.

Slang Cowardly.
tr. & intr.v.
yel·lowed, yel·low·ing, yel·lows
To make or become yellow: documents that had been yellowed by age; clouds that yellow in the evening light.
Origin of yellow
Middle English
yelow
from
Old English
geolu
; see
ghel-
2
in Indo-European roots.
Related Forms:
---
yellow

Adjective
(comparative yellower, superlative yellowest)
Having yellow as its colour.
(informal) Lacking courage.
(publishing, journalism) Characterized by sensationalism, lurid content, and doubtful accuracy.
(chiefly derogatory and offensive) Asian (relating to Asian people).
(UK, politics) Related to the Liberal Democrats.

yellow constituencies

(Germany, politics) Related to the Free Democratic Party.

The black-yellow coalition
Noun
(plural yellows)
The colour of gold or butter; the colour obtained by mixing green and red light, or by subtracting blue from white light.
(US) The intermediate light in a set of three traffic lights, the illumination of which indicates that drivers should stop short of the intersection if it is safe to do so.
(snooker) One of the colour balls used in snooker, with a value of 2 points.
(pocket billiards) One of two groups of object balls, or a ball from that group, as used in the principally British version of pool that makes use of unnumbered balls (the (yellow[s] and red[s]); contrast stripes and solids in the originally American version with numbered balls).
(sports) yellow card
Verb
(third-person singular simple present yellows, present participle yellowing, simple past and past participle yellowed)
(intransitive) To become yellow or more yellow.
To make (something) yellow or more yellow.
Origin
From Middle English yelwe, yelou, from Old English Ä¡eolu, Ä¡eolwe, from Proto-Germanic *gelwaz, from Proto-Indo-European *ǵʰelh₃-u̯os (compare Welsh gelw ("pale"), Latin helvus ("dull yellow")), from *ǵʰelh₃ ("gleam, yellow") (compare Irish geal ("white, bright"), Lithuanian žalias ("green"), Ancient Greek χλωρός (chlōrós, "light green"), Persian زر (zar, "yellow"), Sanskrit हरि (hari, "greenish-yellow")).
---