noun
The definition of chicken is a domestic bird used for meat and laying eggs, the meat that comes from such a bird, or is a slang term for someone who is fearful or cowardly.

A bird that lives in a barn and lays eggs is an example of a chicken.
A person who is afraid to dive in the pool even after every single one of his friends did is an example of someone who might be called a chicken.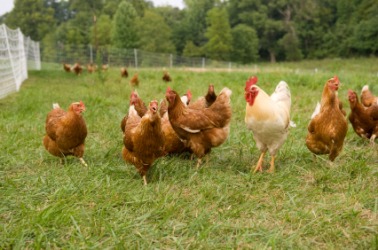 Several brown chickens in a field.
---
chicken definition by Webster's New World
noun
a common gallinaceous farm bird (Gallus domesticus) raised for its edible eggs or flesh; hen or rooster, esp. a young one: classed in a family (Phasianidae) that includes pheasants, quail, and peafowl
the flesh of this bird
any young bird; chick
a young or inexperienced person

Slang

a timid or cowardly person
a young male homosexual

Origin: < chickenshit

Mil. Slang

petty insistence on rules
Origin: Middle English chicken ; from Old English cycen ; from West Germanic an unverified form kiukina ; from an unverified form kiuk-; like cock, of echoic origin, originally ; akin to Middle Low German kûken (Du kuiken, kieken)
adjective
made of chicken: chicken croquettes
small and tender: a chicken lobster

Slang

timid or cowardly
☆

Origin: cf. chicken

Mil. Slang

characterized by unnecessary discipline or pettiness
intransitive verb
Slang
to lose courage and abandon a plan or action: usually with
out
Webster's New World College Dictionary Copyright © 2010 by Wiley Publishing, Inc., Cleveland, Ohio. Used by arrangement with John Wiley & Sons, Inc.
---
chicken definition by American Heritage Dictionary
noun
a. The common domestic fowl (Gallus domesticus) or its young.

b. Any of various similar or related birds.

c. The flesh of the common domestic fowl.

Slang A coward.
Any of various foolhardy competitions in which the participants persist in a dangerous course of action until one loses nerve and stops.
Vulgar Slang A young gay male, especially as sought by an older man.
adjective
Slang Afraid; cowardly.
intransitive verb
chick·ened
,
chick·en·ing
,
chick·ens
Slang
To act in a cowardly manner; lose one's nerve: chickened out at the last moment.
Origin: Middle English chiken, from Old English cīcen.
The American Heritage® Dictionary of the English Language, 4th edition Copyright © 2010 by Houghton Mifflin Harcourt Publishing Company. Published by Houghton Mifflin Harcourt Publishing Company. All rights reserved.
---
chicken - Phrases/Idioms
count one's chickens before they are hatched
to count on something that may not materialize
play chicken
☆
to engage in a test of courage in which, typically, two vehicles are driven directly toward one another in order to see which driver will swerve away first

Slang

to engage in mutual challenges or threats, hoping the opponent will withdraw before actual conflict or collision