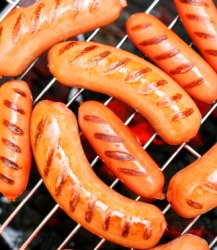 Wieners on the grill.
noun
Wiener is another term for a sausage like a hot dog or frankfurter.

An example of wiener is a sausage you throw on the grill to eat.
---
wiener
frankfurter
Vienna sausage

Slang

weenie (sense )
weenie (sense )
Origin of wiener
short for
wienerwurst
from German
Wiener wurst
, Vienna sausage
Wiener
1894-1964; U.S. mathematician & pioneer in cybernetics
---
wiener
noun
Wienerwurst.
A frankfurter.
Vulgar Slang A penis.
Origin of wiener
German
short for
Wienerwurst
; see
wienerwurst
.
---
wiener

Noun
(plural wieners)
(UK) a frankfurter
(US, colloquial) penis
(US, colloquial) someone who is nervous or afraid to partake in certain activities
(US, UK, colloquial), an irritating or disliked person
Origin
From German Wienerwurst, from Wiener ("of Vienna, Viennese") +"Ž Wurst ("sausage"), because sausages were originally made in Vienna, Austria.
Nowadays, in Germany this sausage is known as Wiener Würstchen ("small sausage from Vienna"), but in Vienna it is called a Frankfurter ("from Frankfurt").
---