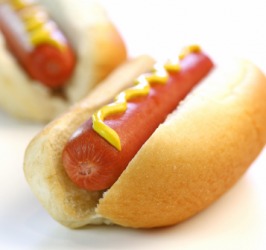 A hot dog with mustard.
noun
The definition of a hot dog is a frankfurter or wiener often served in a long soft roll.

A frankfurter you can buy at a baseball game or from a street vendor in New York that you eat in a long roll with ketchup and mustard is an example of a hot dog.
verb
Hot dog is defined as slang for doing something special in sports to capture attention.

An example of hot dog is to do extra rotations while ski jumping.
---
hot dog
a frankfurter, esp. one served hot in a long, soft roll, with mustard, relish, etc.

Slang

an exclamation used to express delight
Origin of hot dog
origin, originally (?) so named (
c.
1900) by T. A. Dorgan (died 1929), United States cartoonist, probably in allusion to popular notion that the sausage was made of
dog
meat
hot-dog
intransitive verb
-·dogged·

,

-·dog·ging
Slang
to perform, esp. in sports, so as to attract attention; show off
Origin of hot-dog
from hot dog (sense )
Slang
a person who hot-dogs; showoff
Informal
designating a form of freestyle skiing or surfing that involves acrobatics
---
hot dog
or hot·dog
noun
A frankfurter, especially one served hot in a long soft roll. Also called red-hot .
Slang One who performs showy, often dangerous stunts, as in skiing or surfing.
interjection
Informal
Used to express delight or enthusiasm.
Origin of hot dog
Originally 19th century slang, from the belief that sausage makers often adulterated sausages with meat from dogs
hot-dog
intransitive verb
hot-dogged, hot-dog·ging, hot-dogs
Slang
To perform daring stunts or acrobatic maneuvers, as while skiing or surfing.
Related Forms:
hot′-dog′ging

adjective

noun
hot-dog
an "iron cross" maneuver
---
hot-dog

Verb
(third-person singular simple present hot dogs, present participle hot dogging, simple past and past participle hot dogged)
Origin
1894 (US), both the sense of frankfurter in a roll, and of show-off.
Noun
(plural hot-dogs)
Alternative spelling of hot dog.
---