adjective
The definition of blonde is something that is light or yellow colored, especially a woman's hair.

An example of something blonde is the hair of a Barbie doll.
noun
A blonde is defined as a person with light yellow to very light brown hair.

An example of a blonde is Pamela Anderson.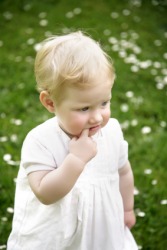 A little girl with blond hair. A blonde.
---
blonde definition by Webster's New World
adjective
blond: esp. fem. form, but in Brit. usage preferred for all senses
noun
a blond woman or girl
a type of silk bobbin lace: so called because originally flaxen in color