gold

Gold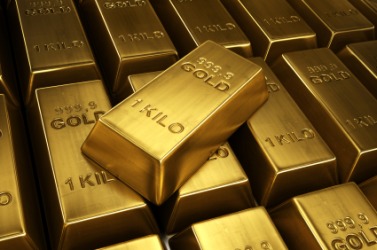 A stack of gold bars.
adjective
The definition of gold is having an olive brown-yellow color.

An example of something gold is the color of the metal in an engagement ring.
noun
Gold is defined as a soft, yellow precious metal, or the color that is a mix of yellow and olive brown.

An example of gold is the substance from which some jewelry is made.
An example of gold is the color of wheat.
---
gold
a heavy, yellow, inert, metallic chemical element that is highly ductile and malleable: it is a precious metal and is used in the manufacture of coins, jewelry, alloys, etc.: symbol, Au; at. no. 79

gold coin
money; riches; wealth

the bright yellow color of gold
something regarded as having the value, brilliance, etc. of gold: a voice of pure gold
gold medal
Origin of gold
Middle English from OE, akin to German
gold
, Old Norse
goll
from Indo-European base an unverified form
?hel-
, to shine, gleam from source glow, yellow
of, made of, like, or plated with gold
having the color of gold
secured by or redeemable in gold; based on gold

Origin of gold

after the gold-plated copy awarded to the performer(s) designating a record, tape, disc, etc. which has registered sales of a specified number, as 500,000, or a specified value, as $1,000,000: gold reflects a lesser number or value than platinum
---
gold
noun
a. Au

A soft, yellow, corrosion-resistant element, the most malleable and ductile metal, occurring in veins and alluvial deposits and recovered by mining, panning, or sluicing. A good thermal and electrical conductor, gold is generally alloyed to increase its strength, and it is used as a common monetary standard, in jewelry, for decoration, and as a plated coating on a wide variety of electrical and mechanical components. Atomic number 79; atomic weight 196.967; melting point 1,064.2°C; boiling point 2,856.0°C; specific gravity 19.3; valence 1, 3. See

Periodic Table

.

b. Coinage made of this element.

c. A gold standard.

Money; riches.
A light olive-brown to dark yellow, or a moderate, strong to vivid yellow.
Something regarded as having great value or goodness: a heart of gold.
A medal made of gold awarded to one placing first in a competition, as in the Olympics: won 9 golds in 13 events.
adjective
Having the color of gold.
Origin of gold
Middle English
from
Old English; see
ghel-
2
in Indo-European roots.
Gold
A trademark for a certification indicating that a recording, such as an album of music, has sold 500,000 copies.
---
gold

Noun
(countable and uncountable, plural golds)
(countable) A coin made of this material, or supposedly so.
(countable) A bright yellow colour, resembling the metal gold.

(countable) The bullseye of an archery target.
(countable) A gold medal.

France has won three golds and five silvers.

(figuratively) Anything or anyone considered to be very valuable.
Adjective
(not comparable)
Made of gold.
Having the colour of gold.
Verb
(third-person singular simple present golds, present participle golding, simple past and past participle golded)
Origin
From Middle English gold, from Old English gold ("gold"), from Proto-Germanic *gulþą ("gold") (Compare Dutch goud, German Gold, Swedish guld), from Proto-Indo-European *ǵʰl̥tóm ("gold"), from Proto-Indo-European *ǵʰel- ("yellow; gleam; to shine"). compare Latvian zelts, Russian золото (zóloto), Persian زرد (zard, "yellow, golden"), Sanskrit हिरण्य (hiraṇya). More at yellow.
Adjective
(not comparable)
(programming, of software) In a finished state, ready for manufacturing.
Adverb
(not comparable)
of or referring to a gold version of something
Origin
From gold master, a copy of the code certified as being ready for release.
See also:
gòld
---
gold - Investment & Finance Definition
A precious metal that has functioned as a currency or served as a long- standing investment since the early days of civilization. Gold is a safe haven investment, which means that investors will put their money in gold during times of extreme uncertainty such as war, terrorist attacks, or financial uncertainty such as a sell-off in the stock market, or during times of high inflation.
Investors can invest in gold by purchasing gold bullion, which is a precious metal that is in a tradable form, typically a bar or wafer. Gold coins also are minted by governments or by a private company as an investment piece. Popular gold coins issued by governments include the American Eagle, the Canadian Maple Leaf, the South African Krugerrand, the Isle of Man Gold Cat, the Australian Kangaroo, and the China Mint Panda Bear.
Gold future and options also provide a way to invest in gold. They trade on Comex, a division of the New York Mercantile Exchange. They trade in a unit that is based on 100 troy ounces. Price quotations are in dollars, such as $360.70. Trade occurs from 8:20 a.m. ET until 1:30 p.m. ET. Trade after hours occurs on NYMEX's Internet-based electronic trading platform, ACCESS. Gold futures and options also are traded on other exchanges throughout the world.
---