potassium

po·tas·si·um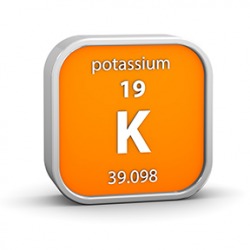 Potassium
noun
The definition of potassium is an alkali metal.

Facts About Potassium

Its symbol is K, which is Latin for kalium.
It has an atomic number of 19.
Potassium reacts violently to water which makes hydrogen. During the process, there is enough heat generated to ignite the hydrogen.
Before the 19th century, it was thought that sodium and potassium were the same.
In nature, potassium is found in ionic salts, just like sodium.
It is a very soft, light silvered colored metal that tarnishes quickly in air into a gray color.
When it is burned, the flame is a light purple.
Most of the potassium produced in the world is used by the fertilizer industry.
It helps the nerves and muscles do their job, to maintain the proper acid-base balance, and can lower blood pressure.
Some medications interfere in potassium levels including ACE inhibitors, Heparin, Bactrim or Septra, Cyclosporine, Beta Blockers and non-steroidal anti-inflammatory drugs or NSAIDs.

An example of potassium is the mineral found in dried apricots and raisins.
---
potassium
a soft, silver-white, waxlike metallic chemical element, one of the alkali metals, that oxidizes rapidly when exposed to air: it occurs abundantly in nature in the form of its salts, which are used in fertilizers, glass, etc.: symbol, K; at. no. 19
Origin of potassium
ModL: so named from
potassa
from Dutch
potasch
, potash, by Sir Humphry Davy, who first isolated it from potash
---
potassium
noun
K
A soft, silver-white, extremely reactive element that is an alkali metal, is essential to plant and animal cell functions, and occurs in nature only in compounds. It can be obtained by electrolysis of its hydroxide and is found in, or converted to, a wide variety of salts used especially in fertilizers and soaps. Atomic number 19; atomic weight 39.098; melting point 63.5°C; boiling point 759°C; specific gravity 0.86; valence 1. See
Periodic Table
.
Origin of potassium
From
earlier
potass
potash
(
from which it was first obtained
)
from
French
potasse
from
Dutch
potas
pot
pot
(
from
Middle Dutch) (Old English
pott
)
as
ash
(
from
Middle Dutch
asche
; see
as-
in Indo-European roots.)
Related Forms:
---
potassium

Origin
From potassa ("potash") + -ium.
---