radioactive
ra·di·o·ac·tive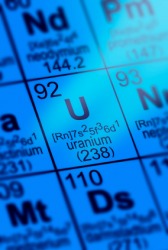 Uranium is radioactive.
adjective
The definition of radioactive is something that gives off energy waves called radiation.

Naturally Occurring Radioactive Elements

Rubidium
Thorium
Uranium (238)
Potassium
Uranium (235)
Iodine
Technetium
Uranium
Plutonium
Carbon
Radium
Radon
Polonium
Calcium
Argon

Radioactive Elements Used for Science

Chlorine
Carbon
Cesium
Strontium
Tritium
Cobalt (60)
Iron (55)
Sodium (22)
Manganese
Cobalt (57)
Zinc
Calcium
Tin
Sulfur
Iodine (125)
Iron (59)
Chromium
Phosphorus
Iodine (131)
Gold
Bromine
Sodium (24)
Copper
Potassium
Nitrogen
Oxygen

Radioactive Elements for Energy and Bombs

Plutonium (238)
Neptunium
Cesium
Ruthenium
Strontium
Iodine
Xenon
Tellurium

An example of radioactive is the element Plutonium which is used for nuclear bombs.
---
radioactive
giving off, or capable of giving off, radiant energy in the form of particles or rays, as alpha, beta, and gamma rays, by the spontaneous disintegration of atomic nuclei: said of certain elements, as plutonium, radium, thorium, and uranium, and their products
Origin of radioactive
radio- + active
---
radioactive
adjective
Of, exhibiting, or caused by radioactivity.
Informal Extremely sensitive or controversial: "Perhaps race is now too radioactive a topic, in an era of political correctness" (David Nyhan).
Related Forms:
ra′di·o·ac′tive·ly

adverb
---
radioactive
---