rigor

rig·or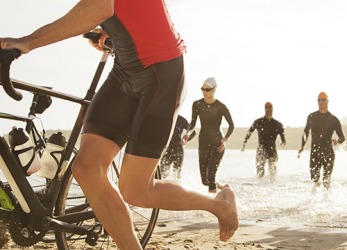 The intense rigor of the triathlon training bootcamp prepares the athletes for the race.
noun
Rigor is something strict, severe or demanding.

Harsh and strict treatment in the military for cadets is an example of rigor.
Freezing weather and ice are examples of the rigors of winter.
Difficult and challenging academic courses are an example of academic rigor.
---
rigor
harshness or severity; specif.,

strictness or inflexibility: the rigor of martial law
extreme hardship or difficulty: the rigors of life
inclemency, as of weather

exactness in precision or accuracy; exactitude
a severe, harsh, or oppressive act, etc.
stiffness; rigidity; specif., a condition of rigidity in bodily tissues or organs, in which there is no response to stimuli
a shivering or trembling, as in the chill preceding a fever
Origin of rigor
Middle English from Middle French
rigueur
from Classical Latin
rigor
from
rigere:
see rigid
---
rigor
noun
a. Strictness or severity, as in action or judgment: "The desert fostered a closed world of faith and rigor and harsh judgment: almost every decision here could have lethal consequences" ( Jeffrey Tayler )

b.

A harsh or trying circumstance; a hardship or difficulty:

the rigors of working in a coal mine.

See Synonyms at

difficulty

.

c. Archaic A harsh or severe act.

a. Strictness in adhering to standards or a method; exactitude: "To study the brain with scientific rigor, behaviorists logically restricted their experiments to ones in which the brain was the source of measurable effects" ( Robert Pollack )

b. A standard or exacting requirement, as of a field of study: the intellectual rigors of advanced mathematics.

Medicine Shivering or trembling, as caused by a chill.
Physiology A state of rigidity in living tissues or organs that prevents response to stimuli.
Obsolete Stiffness or rigidity.
Origin of rigor
Middle English
rigour
from
Old French
from
Latin
rigor
from
rigēre
to be stiff
; see
reig-
in Indo-European roots.
---
rigor

Noun
(countable and uncountable, plural rigors)
US spelling of rigour.
(slang) an abbreviated form of rigor mortis.
Origin
From Old French, from Latin rigor ("stiffness, rigidness, rigor, cold, harshness"), from rigere ("to be rigid").
---