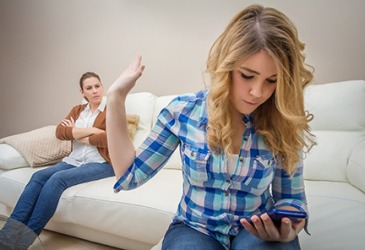 Because Mindy didn't want her mother to find out that she went to the party with Brianna and her friends, she tried to prevaricate her questions.
verb
To prevaricate is to dance around the truth or speak evasively.

An example of prevaricate is what you do when your mother asks you where you have been and you don't want to tell her.
---
prevaricate
intransitive verb
-·cat·ed

,

-·cat·ing
to turn aside from, or evade, the truth; equivocate
to tell an untruth; lie
Origin of prevaricate
from Classical Latin
praevaricatus
, past participle of
praevaricari
, to prevaricate, literally , to walk crookedly from
prae-
, before +
varicare
, to straddle from
varicus
, straddling from
varus
, bent apart from Indo-European base an unverified form
wa-
from source vary
---
prevaricate
verb
pre·var·i·cat·ed, pre·var·i·cat·ing, pre·var·i·cates
verb
intransitive
To speak or write evasively. See Synonyms at lie2.
Usage Problem To behave in an indecisive manner; delay or procrastinate.
verb
transitive
To utter or say in an evasive manner.
Origin of prevaricate
Latin
praevāricārī
praevāricāt-
to straddle across (something), collude (used of lawyers)
prae-
pre-
vāricāre
to straddle
(
from
vāricus
straddling
) (
from
vārus
bow-legged, bandy
)
Related Forms:
Usage Note: The traditional meaning of prevaricate is "to speak or write evasively." In recent years, a second sense has developed, meaning "to behave in an indecisive manner; delay or procrastinate," perhaps influenced by equivocate, which primarily means "to speak evasively" but can also mean "to be indecisive." In American English, this second sense is widely considered an error, and a large majority of the Usage Panel finds it unacceptable. In 2011, 78 percent of the Panel disapproved of the "delay" sense of the word as used in the sentence He prevaricated for some two years before accepting the new design for production. This usage is more commonly encountered in British English, as in this quotation from the BBC News: As the industry prevaricated, sales collapsed.
---
prevaricate

Verb
(third-person singular simple present prevaricates, present participle prevaricating, simple past and past participle prevaricated)
(intransitive) To shift or turn from direct speech or behaviour; to evade the truth; to waffle or be (intentionally) ambiguous.

The people saw the politician prevaricate every day.

(intransitive, law) To collude, as where an informer colludes with the defendant, and makes a sham prosecution.
(law, UK) To undertake something falsely and deceitfully, with the purpose of defeating or destroying it.
Origin
From the participle stem of Latin praevāricārÄ«, from prae- with vāricāre, from vārus, from Proto-Indo-European *wā- ("to bend apart") (the root of "˜various').
---