distort

dis·tort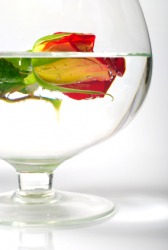 A rose distorted by the water.
verb
To distort is defined as to change something or shape something in a way that changes it from the truth or from what it should be.

An example of distort is when you take a quote out of context to make it seem like it has a different meaning from what the speaker really said.
An example of distort is when you blow up a picture to a really huge size and the image changes as a result.
---
distort
to twist out of shape; change the usual or normal shape, form, or appearance of
to misrepresent; misstate; pervert: to distort the facts
to modify (a wave, sound, signal, etc.) so as to produce an unfaithful reproduction
Origin of distort
from Classical Latin
distortus
, past participle of
distorquere
, distort from
dis-
, intensive +
torquere
, to twist: see tort
---
distort
transitive verb
dis·tort·ed, dis·tort·ing, dis·torts
To twist out of a proper or natural relation of parts; misshape: a reflection distorted in the moving water; a face distorted in misery.
To cause to deviate from what is normal, reasonable, or accurate: "Though I knew how to translate exactly what she had told me, I realized that any translation would distort the deepest meaning of her message" ( Richard Rodriguez )
Electronics To cause distortion in (a signal or waveform, for example).
Origin of distort
Latin
distorquēre
distort-
dis-
apart
; see
dis-
.
torquēre
to twist
; see
terkw-
in Indo-European roots.
Related Forms:
---
distort

Verb
(third-person singular simple present distorts, present participle distorting, simple past and past participle distorted)
To bring something out of shape.
(intransitive, ergative) To become misshapen.
To give a false or misleading account of

In their articles, journalists sometimes distort the truth.
Adjective
(comparative more distort, superlative most distort)
(obsolete) distorted; misshapen
Origin
From Latin distortum, past participle of distorquēre ("to twist, torture, distort")
---