noun
The definition of a portion is part of something.

An example of portion is half of a sandwich.
verb
Portion is defined as to divide into parts.

An example of to portion is cutting a sandwich in half.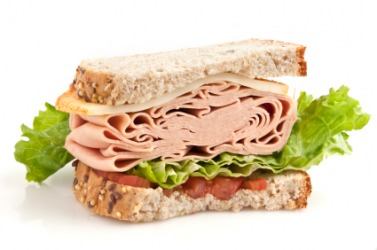 A portion of a sandwich.
---
portion definition by Webster's New World
noun
a part or limited quantity of anything, esp. that allotted to a person; share
the part of an estate received by an heir
the part of a man's money or property contributed by his bride; dowry
the part of experience supposedly allotted to a person by fate; one's lot; destiny
the part of a meal or quantity of food served to a person; serving; helping
Origin: Old French ; from Classical Latin portio (gen. portionis), portion ; from an unverified form partio ; from pars, part
transitive verb
to divide into portions
to give as a portion to; apportion
to give a portion to; endow; dower
Origin: OFr portionner, to divide, separate
Webster's New World College Dictionary Copyright © 2010 by Wiley Publishing, Inc., Cleveland, Ohio. Used by arrangement with John Wiley & Sons, Inc.
---
portion definition by American Heritage Dictionary
noun
A section or quantity within a larger thing; a part of a whole.
A part separated from a whole.
A part that is allotted to a person or group, as:

a. A helping of food.

b. The part of an estate received by an heir.

c. A woman's dowry.

A person's lot or fate.
transitive verb
por·tioned
,
por·tion·ing
,
por·tions
To divide into parts or shares for distribution; parcel.
To provide with a share, inheritance, or dowry.
Origin: Middle English, from Old French, from Latin portiō, portiōn-; see perə-2 in Indo-European roots.
Related Forms: