percentage

per·cent·age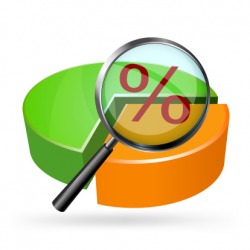 Percentage
noun
Percentage is a measure of a portion in relation to a whole, often expressed in relation to how many of something there are per 100.

When a group has half girls and half boys, this is an example of a situation where the percentage of boys in the group is equal to 50 percent.
---
percentage
a given part or amount in every hundred
any number or amount, as of interest, tax, etc., stated in percent
part; portion; share: a percentage of the audience

Informal

use; advantage; profit: no percentage in worrying
[usually pl.] a risk based on favorable odds
---
percentage
noun
a. A fraction or ratio with 100 understood as the denominator; for example, 0.98 equals a percentage of 98.

b. The result obtained by multiplying a quantity by a percent.

A proportion or share in relation to a whole; a part: The hecklers constituted only a small percentage of the audience.
An amount, such as an allowance, duty, or commission, that varies in proportion to a larger sum, such as total sales: work for a percentage.
Informal Advantage; gain: There is no percentage in work without pay.
Usage Note: When preceded by the, percentage takes a singular verb: The percentage of unskilled workers is small. When preceded by a, it takes either a singular or plural verb, depending on the number of the noun in the prepositional phrase that follows: A small percentage of the workers are unskilled. A large percentage of the crop has spoiled.
---
percentage

Noun
(plural percentages)
The amount, number or rate of something, regarded as part of a total of 100; a part of a whole.

A high percentage of secondary school leavers take a gap year.

A share of the profits.

She gets a percentage for every vacuum cleaner sold.
Usage notes
A percentage is often denoted by the character (%).
Ex. 50% denotes 50 per cent.
---