interest

in·ter·est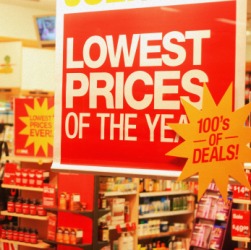 A sign to interest customers in shopping at this store.
noun
Interest is defined as the amount of money paid for the use of someone else's money.

An example of interest is the $20 that was earned this year on your savings account.
An example of interest is the $2000 you paid in interest this year on your home loan.

The definition of interest is the right or claim someone has over something.

An example of interest is a landlord's care for the welfare of their building.
verb
Interest means to bring someone's attention to something.

An example of to interest is a store owner attracting shoppers with a decorated window.
---
interest
a right or claim to something

a share or participation in something
something, as a business, in which one participates or has a share
a personal connection or involvement which might be thought to compromise one's impartiality in carrying out one's official duties

usually in

declare an interest

[often pl.] advantage; welfare; benefit
[usually pl.] a group of people having a common concern or dominant power in some industry, occupation, cause, etc.: the steel interests
personal influence

a feeling of intentness, concern, or curiosity about something: an interest in politics
the power of causing this feeling: books of interest to children
something causing this feeling: the Lake District is an interest of literary scholars

importance; consequence: a matter of little interest

money paid for the use of money, as on a loan
the rate of such payment, expressed as a percentage per unit of time

any increase over what is owed: to repay kindness with interest
Origin of interest
Middle English
interesse
from Medieval Latin usury, compensation (in L, to be between, be different, interest from
inter-
, between +
esse
, to be: see is): altered, influenced, influence by Old French
interest
from L, it interests, concerns, 3d person; personal (grammar) singular , present tense indicative , of
interesse
to involve the interest, or concern, of; have an effect upon
to cause to have an interest or take part in: can I interest you in a drink before dinner?
to excite the attention or curiosity of
Origin of interest
prob. < ME
interessed
<
interesse
+
-ed
---
interest
noun
a. A state of curiosity or concern about or attention to something: an interest in sports.

b. Something, such as a quality, subject, or activity, that evokes this mental state: counts the theater among his interests.

often interests Regard for one's own benefit or advantage; self-interest: It is in your best interest to cooperate. She kept her own interests in mind.

a. A right, claim, or legal share: an interest in the new company.

b. Something in which such a right, claim, or share is held: has interests overseas.

c. A person or group of persons holding such a right, claim, or share: a petroleum interest.

Involvement with or participation in something: She has an interest in the quality of her education.

a. A charge for a loan, usually a percentage of the amount loaned.

b. An excess or bonus beyond what is expected or due.

a. An interest group.

b. The particular cause supported by an interest group.
transitive verb
in·ter·est·ed, in·ter·est·ing, in·ter·ests
To arouse the curiosity or hold the attention of: Your opinions interest me.
To cause to become involved or concerned with: tried to interest her in taking a walk.
Archaic To concern or affect.
Origin of interest
Middle English
from
Old French
from
Latin
it is of importance
third person sing. present tense of
interesse
to be between, take part in
inter-
inter-
esse
to be
; see
es-
in Indo-European roots.
---
interest

Noun
(usually uncountable, plural interests)
(uncountable, finance) The price paid for obtaining, or price received for providing, money or goods in a credit transaction, calculated as a fraction of the amount or value of what was borrowed. [from earlier 16th c.]

Our bank offers borrowers an annual interest of 5%.

(uncountable) A great attention and concern from someone or something; intellectual curiosity. [from later 18th c.]

He has a lot of interest in vintage cars.

(uncountable) Attention that is given to or received from someone or something.
(countable) A business or amorous link or involvement.

I have business interests in South Africa.

(countable) something one is interested in

Lexicography is one of my interests.
Victorian furniture is an interest of mine.
Verb
(third-person singular simple present interests, present participle interesting, simple past and past participle interested)
To engage the attention of; to awaken interest in; to excite emotion or passion in, in behalf of a person or thing.

It might interest you to learn that others have already tried that approach.
Action films don't really interest me.
Origin
From Old French interesse and interest (French: intérêt), from Medieval Latin interesse, from Latin interesse.
---
interest - Investment & Finance Definition
A fee that is charged by a lender to a borrower for the right to use the borrowed funds. The funds can be used to purchase a house, a car, or goods that were charged on a credit card, for example. The interest charge typically is expressed as an annual percentage rate.
An amount of money that an investor receives for leaving funds on deposit in an interest-bearing account, usually expressed in annual percentage terms.
Partial or total ownership in an asset.
---
interest - Legal Definition
n
Ownership of, or other right in, property.
Legitimate concern with the outcome of a case or controversy, because of a likelihood that the outcome will affect one's property rights or other rights or privileges.
Compensation for making a loan, placing money on deposit, or other use of funds, expressed as a percentage of the principal, calculated and payable on a regular schedule.
compound interest
Interest calculated both on the principal and on previously accrued interest.
Insurable interest
A legal interest in the safety of property or the health and wellbeing of another person sufficient to permit the purchase of an insurance policy.
---