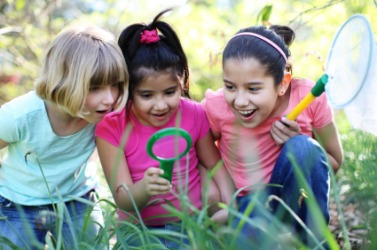 These children are very interested in something in the grass.
adjective
The definition of interested is the giving of attention to something or the people or things involved.

An example of interested is wanting to follow every minute of a television drama.
An example of interested are the parties involved in a court case.
---
interested
having an interest or share; concerned
influenced by personal interest; biased or prejudiced
feeling or showing interest or curiosity
---
interested
adjective
Having or showing curiosity, fascination, or concern: I'm interested to hear about your family.
Possessing a right, claim, or stake: an interested party in the estate. See Usage Note at disinterested.
Related Forms:
---
interested

Adjective
(comparative more interested, superlative most interested)
Having or showing interest.

I'm very interested in going to see that play.

(now rare) Motivated by considerations of self-interest; self-serving.
Owning a share of a company.
Verb
simple past tense and past participle of interest
---