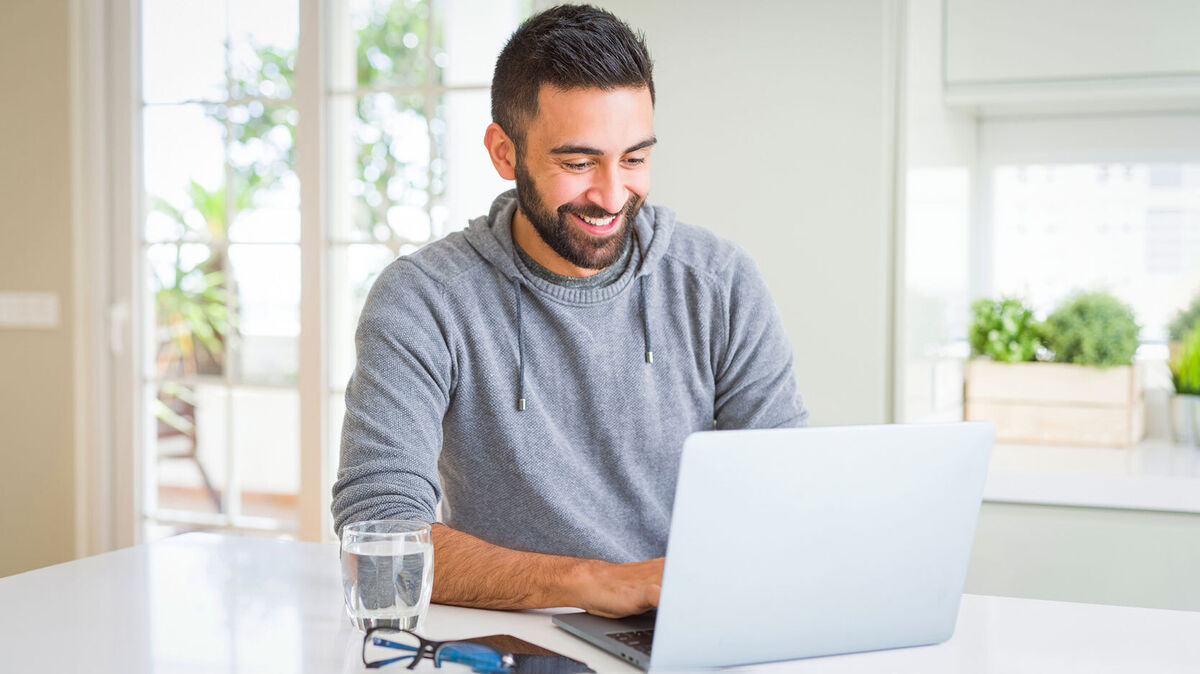 In today's competitive business environment, a well-written letter of interest can be vital to a successful job search. Your goal should be to capture the attention of a recruiter or hiring manager before they post a job opening and to make such a positive impression that the person thinks, "I might not need to advertise this job. I already received a letter from someone who really wants to work here that seems like a great fit!" By learning how to write a letter of interest, you just might get hired before anyone else even knows that a job is open.

Steps for Writing a Letter of Interest That Works
A letter of interest is not the same as a cover letter, which would be used to apply for a specific position. A letter of interest functions as an expression of interest when there isn't a particular job available. Once a job is advertised, it's likely that there will be dozens (or more!) of applicants. Your cover letter and application would come in with a sea of others. A letter of interest can help you stand out in advance, which means you might find yourself being offered a job before anyone else even knows it's available.
The first step in writing a letter of interest is to find the most suitable recipient. It's a good idea to reach out directly to the hiring manager and/or the recruiter. Don't waste your time sending an inquiry to a general email address or mailing a "to whom it may concern" letter. There are a few ways to get the right contacts.
Call the company and ask who oversees the particular job or department you are interested in, then ask who handles recruiting for open jobs in that area. Ask for mailing addresses for those individuals, as well as email addresses. Some companies may not be willing to give email information, so ask for that last.
If you have a strong professional network, reach out to your contacts and see if any of the people in your network know who you reach out to. If so, find out if they know the person or people you should target and, if so, ask them to provide a letter of recommendation you can include with your letter of interest.
Reach out to the college or high school you attended to find out if the alumni network includes anyone who works for the company (or companies) you are interested in. If so, call and explain that you are both graduates of the same school and that you are interested in working for the company. Ask if they can provide you with contact details or, better yet, a personal introduction.
If the above options don't pan out, research the company online to find the contact information for an administrative assistant or department manager who may be able to provide insight regarding who you should connect with in order to make it known that you'd like to work there.
2. Craft Effective Content
Getting the letter to the right person is important, but so is the actual content. Make sure that the letter you write clearly states that you are reaching out because you really want to work for the company and why the organization should consider hiring you, either now or in the future.
Explain specifically why you're interested in this company. To do this, you'll need to research the company and verbalize what it is about the organization that appeals to you.
Clearly state how the company could benefit from adding you to the team. Highlight your unique contributions and link your abilities to the organization's mission, goals or products.
Provide a brief description of your qualifications, including key highlights like education and relevant work experience. Enclose a copy of your resume with the letter.
If someone who works for or does business with the company suggested you apply, specify who referred you, If possible, add why that individual indicated that you might be a good fit.
In the final paragraph, include a specific request, such as asking for an informational interview or requesting information on how to formally apply for a role with the company.
Close the letter with your contact information, including both your phone number and email address, so it is easy for the recipient to reach out to you.
3. Use a Formal Letter Format
If you are planning to mail your letter of interest or attach a letter to the body of an email, you'll want to be sure to use an appropriate business letter format. If you're going to email your letter in the body of an email, you can adjust slightly, as indicated below.
Place your name and mailing address at the top of the letter. (This can be omitted for an email message.)
Leave a blank line after your address and type the date, then leave another blank link.
Type the name, job title (if you have it), company name, and address of the recipient. (This can be committed for an email message).
Leave two blank lines, then open the letter with a formal salutation using a courtesy title and the recipient's last name followed by a colon (Mr. Smith:).
Leave a blank line and write the first paragraph.
Each paragraph should be single-spaced, with a blank line between each paragraph.
After the final paragraph and blank line, include a closing section. Type a polite, professional closing line, such as "Sincerely," or "Kind Regards," followed by your signature.
Leave a few blank lines for a physical signature, then type your name and, if applicable, your title.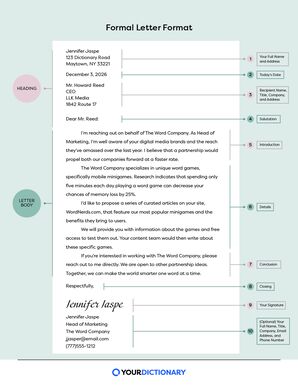 Don't let all of your hard work go to waste by sending out a letter of interest that is poorly written or that contains errors. Take the time to proofread your work carefully, reviewing for accuracy, grammar, spelling, and clarity. It is very difficult to proofread your own work, so consider having a trusted friend or family member read the letter and provide you with feedback. Make any changes needed and do final edits before finalizing the document.
Preparing to Mail or Email a Letter of Interest
You can send your letter via snail mail or email; consider what the recipient is most likely to pay attention to and refer back to the next time they are faced with filling a job. There are a few special considerations to keep in mind based on the method you are using to send your letter of interest.
If you are mailing your letter of interest, be sure that the letter and envelope look very professional. This means that you should print the letter on quality, professional-looking 8 1/2" x 11" paper and send it in a matching #10 envelope. Don't use a cutesy stamp on the envelope. Do not hand-address the envelope. Instead, use a printer for the envelope so it is neatly printed. Use the same font on the envelope as the printed letter, adjusting size as appropriate for the letter.
If you are sending the letter as an attachment to an email, convert the finalized document to PDF format before attaching it. This is important because the recipient may not have the same word processing program you used. Even if they do, the settings could be different, which could make the letter appear improperly formatted. By converting to a PDF, it will look the same to anyone who opens the letter regardless of what kind of computer or software they have.
If you are currently working somewhere, be sure to avoid using your work email address when sending out an expression of interest for finding another job. Not only could your current employer find out what you're doing, but the place where you want to work may also see you as a disloyal employee who misuses company resources. Instead, use a professional-sounding personal email address. If your current personal email address is more fun-oriented rather than professional, open another account to use for letters of interest and other job search documents.
If you're submitting your letter via email, you'll need to craft a descriptive subject line that will capture the attention and interest of the recipient. The often-overlooked detail of the subject line can be the difference between your message being perceived as spam and your request being granted.
Referred by Molly Johnson - Informational Interview Request
Interested in Opportunities at ABC Media - Aimee Miller
Aviation Weekly News Feature - Informational Interview Request
Sample Letters of Interest
What you should say in a letter of interest can vary greatly based on your situation and the type of opportunity you are seeking. Review the sample text for letters of interest below to get inspired to write one of your own.
New Graduate Letter of Interest
In this first example, a soon-to-be college graduate is seeking an opportunity to work with a consulting group.
Dear Mr. Hoover,

The Boston Consulting Group was recently recognized as one of the best places to work in the country, due to its commitment to work/life balance and opportunities for junior level staffers to build their professional skills. I was not surprised by this honor, since my associate Nicole Robinson raves about her positive experience working with your company.

I wonder if you have any open positions for a results-driven professional with skills in business strategy, strategic planning, and program management, honed through both private sector and military positions. I will receive my MBA from the University of Maryland in June 2019 and would love to meet to discuss where my skill set could be of the greatest benefit to your company.

I've attached my resume for additional information about my background. I look forward to speaking with you and learning more about your company. You may reach me at 504-555-8943 or tthompson@profemail.com. I am available for a meeting at your earliest convenience.

Sincerely,

Todd Thompson

Experienced Individual Seeking Advancement
The following letter of interest example comes from a person with some local experience. The sender would like to explore working with a larger organization. Note the specificity of the "hook" she includes in the first paragraph.
Dear Ms. Jones,

I'm an avid reader of The Washington Post and admire your dedication to providing fair and balanced information about current education policy. Your recent story about the value of media literacy training for high school students was particularly impressive.

After earning my journalism degree from The University of Iowa, I accepted a position as a Staff Writer at The Waterloo-Cedar Falls Courier. Two years as a general assignment reporter helped me discover my passion for the education beat.

If you have time, I would love to gain your insight on a few pieces from my portfolio. Perhaps my skills can be used in your newsroom. I've attached two pieces here for your convenience, as well as my resume.

Thank you in advance for your consideration. Please call me at 205-000-000 or reach out via email@email.com at your earelist convenience. I look forward to speaking wiht you soon.

Sincerely,

Elizabeth C. Edwards
Letter of Interest Based on Company News Coverage
Sometimes you might hear something about an organization that makes you think that you'd really like to work there. The letter of interest below references a recent, specific news story as a means of capturing the recipient's interest:
Mr. Kampman:

As a long-time Sioux Falls resident, I have always heard great things about North Jackson Elementary School's commitment to educational excellence. I am particularly impressed with the recent KMTV news report on the sixth-grade classroom's effort to collect t-shirts to be turned into cloth diapers for children in Haiti.

I firmly believe that teaching children to be caring global citizens is just as important as developing a mastery of core academic subjects. Seeing how our values align, I am extremely interested in learning about potential opportunities to work with your school.

I am a highly qualified teacher who is passionate about community involvement and social responsibility. I would greatly appreciate the opportunity to meet with you to discuss any teaching positions that may be available in the upcoming academic year.

I earned my Bachelor of Arts in Elementary Education in 2010, and have been working as a fifth-grade language arts teacher at River Hills Academy since then. I love the work I am doing, but find the idea of working with a school where there is such a high level of commitment to teaching children to be socially responsible to be truly exciting.

Your school is doing such important work. I would love an opportunity to speak with you in person about how I can benefit your school and its students. Please call me at 549-300-4444 or email madisoneducator@gmailyahoo.com to schedule a meeting at your earliest convenience. Thank you for your consideration.

Sincerely,

Madison Norton

Free Letter of Interest Template
Use a customizable template, complete with proper formatting, to craft your own letter of interest. To adjust the content, simply open the document, click anywhere in it, and type in your changes. Then, you can save and print it for use. Keep it on your computer so you can update the letter to use with multiple organizations.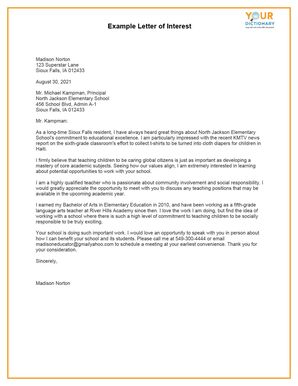 A well-written letter of interest shows that you're proactive about your job search and have a sincere desire to work for the company you are contacting. With a little luck, it can help you make the connections you need to become the top candidate when a position does become available. Now that you know how to write a letter of interest, turn your attention to your resume. Since you'll need to submit it along with your letter of interest, be sure that it is current and stands out. Start by reviewing these examples of resume objectives and adjusting yours accordingly. Then review some resume writing examples for ideas on how to make sure that yours gives you an edge.