verb
The definition of bored means to feel impatient because you are uninterested.

An example of bored is how a small child might feel on a road trip with adults if he has nothing to do.
YourDictionary definition and usage example. Copyright © 2013 by LoveToKnow Corp.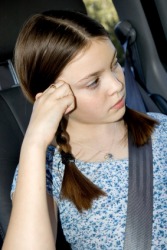 This girl is bored with the road trip.
Licensed from iStockPhoto
---
bored
Variant of bore
transitive verb
bored, boring
to make a hole in or through with a drill or other rotating tool
to make (a hole, tunnel, well, etc.) by or as by drilling
to force (one's way), as through a crowd
to weary by being dull, uninteresting, or monotonous
Origin: Middle English boren ; from Old English borian, to bore ; from bor, auger ; from Indo-European base an unverified form bher-, to cut with a sharp point from source Classical Greek an unverified form pharein, to split, Classical Latin forare, to bore, ferire, to cut, kill
intransitive verb
to bore a hole or passage
to be drilled by a tool: soft materials bore easily
to move forward slowly but steadily, as if by boring
to become weary and disinterested
noun
a hole made by or as by boring

the hollow part inside a tube, pipe, or cylinder, as of a gun barrel
the inside diameter of such a hollow part; gauge; caliber

a tiresome, dull person or thing
Origin: ME < the v.; also < ON bora, a hole