weary

wea·ry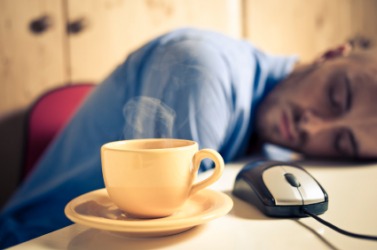 A man weary after a long day at work.
adjective
The definition of weary is feeling very tired or fatigued.

An example of weary is how a worker will feel after working for 12 hours straight on his feet.
---
weary
adjective
-·ri·er

,

-·ri·est
tired; worn out
without further liking, patience, tolerance, zeal, etc.; bored: with of: weary of his continual joking
tiring: weary work
irksome; tedious; tiresome
Origin of weary
Middle English
weri
from Old English
werig
, akin to Old High German
wuorag
, drunk from Indo-European base an unverified form
w?r-
, giddiness, faintness from source Classical Greek
h?rakian
, to be giddy
transitive verb
intransitive verb
-·ried

,

-·ry·ing
to make or become weary
---
weary
adjective
wea·ri·er, wea·ri·est
Physically or mentally tired.
Expressive of or prompted by tiredness: a weary smile.
Having one's interest, forbearance, or indulgence worn out: weary of delays.
Causing fatigue; tiresome: a weary wait.
tr. & intr.v.
wea·ried, wea·ry·ing, wea·ries
To make or become weary. See Synonyms at
tire
1
.
Origin of weary
Middle English
weri
from
Old English
wērig
Related Forms:
---
weary

Adjective
(comparative wearier, superlative weariest)
Having the strength exhausted by toil or exertion; tired; fatigued.

A weary traveller knocked at the door.

Having one's patience, relish, or contentment exhausted; tired; sick.

soldiers weary of marching, or of confinement
I grew weary of studying and left the library.

Expressive of fatigue.

He gave me a weary smile.

Causing weariness; tiresome.
Verb
(third-person singular simple present wearies, present participle wearying, simple past and past participle wearied)
To make or to become weary.
Origin
Old English wēriġ
---