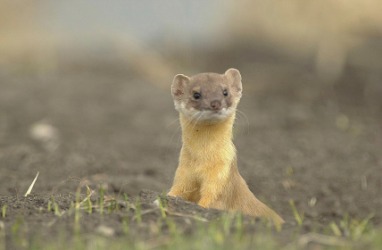 A cute little weasel.
noun
The definition of a weasel is an animal in the genus Mustela that's thin, has a long tail and eats small animals, or a sneaky person.

An example of a weasel is the creature chased by a monkey around the mulberry bush.
An example of a weasel is a person who always finagles more than she or he deserves.
---
weasel
noun
pl.

-·sels

or

-·sel
any of various agile musteline carnivores (esp. genus Mustela) with a long, slender body, short legs, and a long, bushy tail: they feed on rats, mice, birds, eggs, etc. and are found worldwide
a sly, cunning, or sneaky person
Origin of weasel
Middle English
wesel
from Old English
wesle
, akin to German
wiesel
, probably from Indo-European base an unverified form
weis-
, to flow out (with reference to the rank odor emitted by the animal) from source virus, bison
to use weasel words

Informal

to avoid or evade a commitment or responsibility: with out
---
weasel
noun
Any of various carnivorous mammals of the genus Mustela, having a long slender body, a long tail, short legs, and brownish fur that in many species turns white in winter.
A person regarded as sneaky or treacherous.
intransitive verb
wea·seled, wea·sel·ing, wea·sels,
also
wea·selled
wea·sel·ling
To be evasive; equivocate.
Phrasal Verbs:
weasel out
Informal
To back out of a situation or commitment in a sneaky or cowardly manner.
Origin of weasel
Middle English
wesele
from
Old English
wesle
weasel
ermine in brown summer phase
Mustela erminea
---
weasel

---