verb
The definition of achieve means to accomplish a goal or to do something you set out to do.

An example of achieve is when you win a race you were running and wanted to win.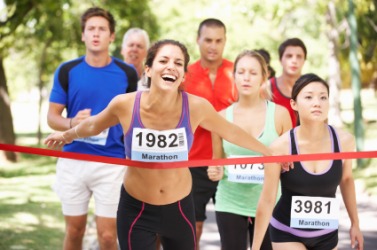 A runner achieves her goal of winning the race.
---
achieve definition by Webster's New World
transitive verb
achieved, achieving
to do; succeed in doing; accomplish
to get or reach by exertion; attain; gain: to achieve one's goals
Origin: Middle English acheven ; from Old French achever, to finish ; from a-, to plush chief, head: see chief
intransitive verb
to bring about a desired result; succeed
Webster's New World College Dictionary Copyright © 2010 by Wiley Publishing, Inc., Cleveland, Ohio. Used by arrangement with John Wiley & Sons, Inc.
---
achieve definition by American Heritage Dictionary
verb
a·chieved
,
a·chiev·ing
,
a·chieves
verb
, transitive
To perform or carry out with success; accomplish. See Synonyms at perform.
To attain with effort or despite difficulty. See Synonyms at reach.
verb
, intransitive
To accomplish something successfully; perform at a standard or above standard level: skills needed to achieve in school.
Origin: Middle English acheven, from Old French achever, from a chief (venir), (to come) to a head; see Chief .
Related Forms: