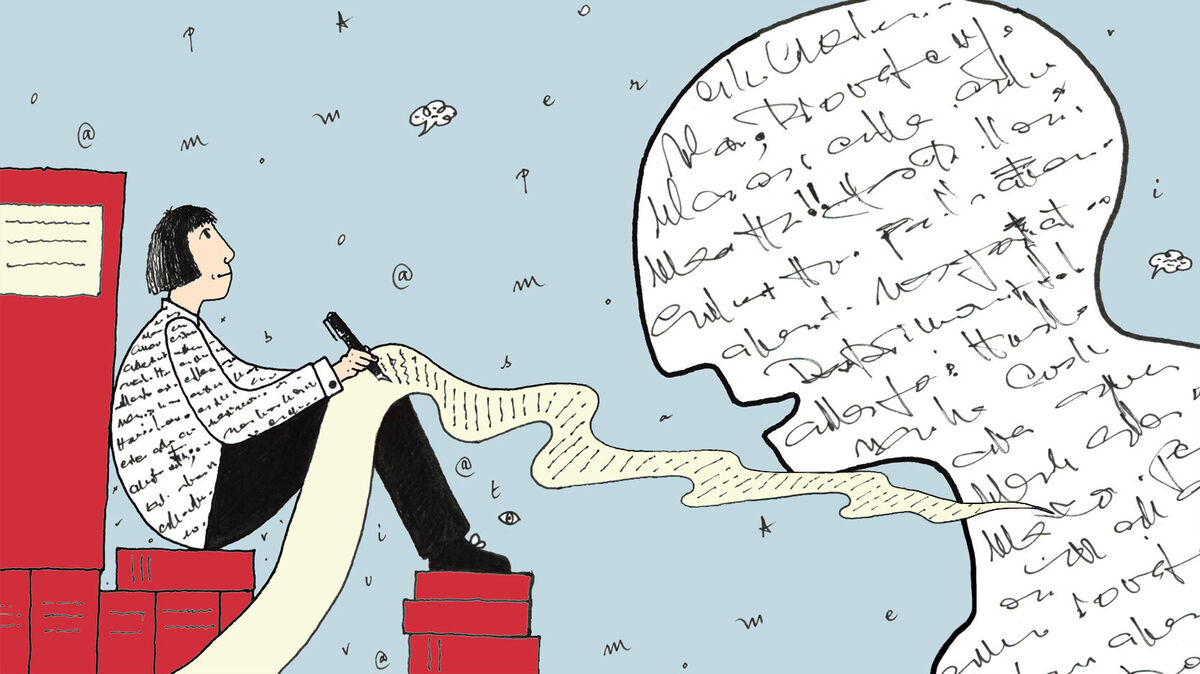 A biographical sketch paints an abbreviated picture of someone's life. It can be written about someone else's life or your own life. If you're writing about someone else, then you must explain who the person is and highlight their major achievements. If the biographical sketch is about you, the same criteria apply, in addition to the goal of presenting yourself in a positive light. Below, you'll find tips on writing a biographical sketch — also known as a biosketch — in order to keep people engaged and make others want to know more about the subject.
Biographical sketches usually provide an account of a person's life and include core information. If you're writing a biosketch about someone else, you'll want to focus on the following basic information: full name, date/place of birth, family background, occupation, and major accomplishments.
We can also write biographical sketches about ourselves — otherwise known as autobiographical sketches — when we need to promote ourselves, say, for a book or presentation. Often, we need to create professional portfolios that include a resume, samples of professional work and a biographical sketch. In these instances, the primary focus is major accomplishments, which we will see in some of the examples below.
It's best to aim for approximately 500 words or less in these sketches. That's equivalent to about one standard, single-spaced page. Remember, as a "sketch," this is going to be a condensed version of a fuller biography. You'll want to tap into those core categories, including background and history, along with pertinent accomplishments. You will, however, have to select only the most noteworthy sentiments, as you'll be confined to approximately one single-spaced page.
3. Highlight Achievements and Influences
Try to highlight notable achievements that will impress the audience and make the subject a more memorable one. Mention how these accomplishments affected the subject's life. Likewise, you can also incorporate personal influences into the sketch.
This is a snippet from master marketer Ann Handley's biographical sketch. In it, she masterfully highlights her achievements and influence on her industry.
"Ann Handley is a Wall Street Journal bestselling author who speaks worldwide about how businesses can escape marketing mediocrity to ignite tangible results. IBM named her one of the 7 people shaping modern marketing."
4. Arrange Your Information
Once you've gathered all the necessary information to compose a biographical sketch, it's time to format your facts. Will you retell the person's life in chronological order? Or, will you lead with their major achievements and then circle back to tell their full story?
Five hundred words only gives you three to five paragraphs to work with. In an autobiographical sketch, you can even consider a bulleted list. Take a look at this sample biographical sketch about Leonard Bernstein, American conductor, composer and educator.
Leonard Bernstein (August 25, 1918-October 14, 1990) will forever be remembered for his contributions to the world of entertainment. The world-renowned, award winning American composer, conductor and pianist enjoyed a long and storied career that encompassed concert halls around the world and tremendous success in theatre, television and motion pictures. His contributions to Brodway, motion pictures and the world of music changed the entertainment industry forever.

In the early days of the Massachusetts native's professional career, he served with the New York Philharmonic as assistant conductor. His incredible talent was immediately recognized. He quickly rose to notoriety and began composing symphonies and Broadway musicals. During the 1940s, he composed the symphonies Jeremiah, Age of Anxiety and the Broadway musical On the Town. During the 1950s, he composed more Broadway musicals, including Wonderful Town, Candid, and the internationally-acclaimed West Side Story. Shortly after completing West Side Story, in 1958, Bernstein was named music director for the New York Philharmonic, a role he held until 1967.

Bernstein's career continued to expand and grow even more successful as he left his mark on the world of music as a composer, conductor, educator, and author. During his decade-spanning career, Bernstein traveled the world bringing the joy of music to audiences everywhere. He served as guest conductor for many major symphonies, including the Vienna Philharmonic and the Berlin Philharmonic. He worked as an educator at Boston's Tanglewood Music Center and Brandeis University in Waltham, Massachusetts. He also published two books of essays, Joy of Music and Infinite Variety of Music.

His later works include the dance drama Dybbuk, the musicals Mass: A Theatre Piece for Singers, Players and Dancers and 1600 Pennsylvania Avenue, and the opera A Quiet Place. Bernstein was recognized with numerous awards throughout his career, including two Tony Awards, seven Primetime Emmy Awards and 16 Grammys. He was also recognized with a coveted Kennedy Center Honors Award. Early in his career, he was nominated for an Academy Award for the score of On the Waterfront. Bernstein never stopped composing, continuing to create and perform until just a few months before he passed away in October 1990. His final performance as a conductor was at Tanglewood Music Center in August 1990.
5. Verify Your Information
Before publishing or presenting a biographical sketch on an individual, double-check all your sources. It's important that the information being presented is confirmed and accurate. If you're writing a biographical sketch, the subject is the best person to provide accurate information. Is an interview possible? If not, as you obtain information about your subject from other sources, be sure to verify its veracity. Here's more on how to find credible sources.
Biographical Sketch Example for Students
If you need to write a biosketch about yourself, review the original example below for inspiration. It's about a fictional college student, but you can follow the biosketch format and tone to create your own personal statement.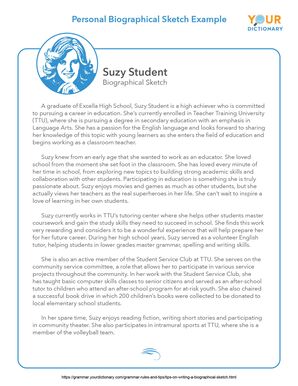 Biographical Sketch vs. Capsule Biography
If you're writing your own biographical sketch, it can be extended into a capsule biography or full-blown autobiography. A capsule biography covers six pertinent elements: name, birthdate, birthplace, parents' names, major achievements, and death.
While the topics are similar, capsule biographies are able to include a little more detail than biosketches, which focus on major achievements, with possibly just a tiny little personal detail at the end.
Write Your Own Biographical Sketch Today
A biographical sketch is an important tool in a professional's toolkit. If you're a writer, it can help you formulate a byline. If you're searching for jobs, it can help you formulate your professional summary.
Expand the Story Beyond a Biosketch
All in all, a biosketch is a springboard to your story. Now that you know how to write a biographical sketch, it can even extend into your very own autobiography, memoir or biography about someone else. There, you'll be free to dive into all sorts of anecdotes and tales. Autobiographies and biographies are not limited to overarching achievements in roughly 500 words. Whether you're writing a biography or autobiography, check out these tips on how to engage the reader. There, you'll learn about the art of the hook, a practice helpful to every genre of writing.