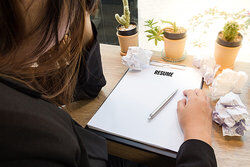 A resume summary statement is a short paragraph that appears at the beginning of your resume. This is your first impression because it concisely sums up your qualifications before recruiters read further. Writing a great resume summary statement starts with your unique qualities. What makes your expertise and experience stand out beyond other potential candidates?
How to Write a Summary Statement
Let's say you had 30 seconds alone with a hiring manager at your dream company. What would you say to him or her? In a way, summary statements are a lot like elevator pitches. You want to sell your skills in a manner that will garner an interview.
Summary statements go by a few different names. Feel free to label this section "Summary Statement," but know you can also use any of these other terms too:
Career Summary
Professional Summary
Resume Statement
Summary of Experience
Summary of Qualifications
The 3 Parts of a Resume Summary Statement
A resume summary statement is literally that: a statement that summarizes your resume. Consider your major strengths, dash in a little bit of your work experience, and top things off with one of your major accomplishments. These are the three ingredients to a great resume summary statement.
Strengths - Strengths correlate with the things that you do well. Perhaps you're not comfortable as a public speaker (yet) but you have first-class organizational skills. Or, perhaps you're a champion salesperson. Start by jotting down a couple of your strengths that immediately come to mind. Here's a list of strengths to help you reflect and see which ones you can claim as your own.
Work Experience - Next, it's time to consider your prior work experience. What elements comprised your prior roles? Did you dabble in sales or work a point of sale system? Did you write a lot of web copy or press releases? Make a list of the core elements within your prior work experience that you would like future employers to notice.
Accomplishments - This has more to do with major accomplishments in your past roles than accolades or awards. For example, were you tasked with the rollout of a new document management system in your department? Consider any major projects you were assigned and how you overcame them, only to turn in a polished result.
With these three elements, you can begin to craft your summary statement. The good news is, you'll probably have more data than you need. In the examples below, you'll notice a powerful summary is whittled down to no more than two lines. If you don't have much experience yet, then you might want to consider a resume objective in lieu of a resume statement.
Summary Statement Examples
Many summary statements begin with your current job title or primary role. Then, they transition into a brief remark on work history, and touch upon a major accomplishment (which is a great opportunity to mention what makes your experience unique).
Since this is just that - a summary - you don't want to let your statement get too long. Try not to exceed two to three lines. In this scenario, you'll notice it's acceptable to include a sentence fragment as long as it doesn't interrupt the flow of the summary. Here are a few examples, but our summary statement examples article has plenty more:
Senior web designer with extensive programming knowledge, including CSS, Java, and Python. Over 10 years' experience publishing corporate websites with record-breaking levels of traffic and user conversion.
Artful advertising executive with tailored experience in social media marketing campaigns and an ability to create a 40% ROI with low-cost ad campaigns.
Senior social worker with five years' experience in crisis management and substance abuse. Proven success in sustained rehabilitation and a re-strengthening of family ties.
Seasoned proofreader with a keen eye for grammatical proficiency and precision. Particular expertise in academic writing with production rates exceeding 50 documents per week.
Digital marketing executive with high levels of proficiency in SEO, PPC advertising, and social media marketing. Experience rolling out ad campaigns and monetized company blogs that boost corporates sales by over 200%.
3 Summary Statement Top Tips
To make the most of your summary statement, keep these key points in mind.
This goes without saying but, of course, anything you "advertise" in your summary statement must be backed by facts and data. Expect your interviewer to ask you to detail the time you increased a company's ROI by 40% or boosted corporate sales by over 200%.
Also, remember to write in the present, active voice and use strong action words. This will provide clarity to each of your bullet points and allow the recruiter to scan your resume with ease.
This is also a great section to include industry-related keywords. Truth be told, even before your resume lands on a hiring manager's desk, it's likely gone through an Applicant Tracking System (ATS) to glean relevant keywords. If they're in your resume, then you might move on to the next stage. For an idea on important keywords, be sure to read Using Keywords in Your Resume.
Resume Objective vs. Resume Statement
Resume objectives and resume statements both appear at the top of a resume. So, what makes them different? Well, summary statements are great if you have a few years' experience in your chosen field. Then, you can tout your inherent value to the company.
If, however, you're just starting out or changing career paths, you might want to focus on a resume objective over a resume summary. This allows you to indicate what, precisely, you're looking for and offer a brief remark on why you'd be a great fit.
Each of these sections are optional, but one of the main advantages of a summary statement is that hiring managers can quickly assess if you might be a good fit without spending a lot of time reading your entire resume. Hiring managers are busy and you don't want to be overlooked.
Here's an example:
Seeking a role as a Marketing Coordinator where I can apply my public relations skills. I possess digital marketing skills and want to work in a fast-paced, engaging environment.
With resume objectives, you still want to keep the focus on what you can do for a company, but there's a little bit more wiggle room here to also indicate what you're looking for. Meanwhile, summary statements indicate your solid-gold experience in a related field that a future employer would find hard to pass up.
A Strong Summary Statement Gets Interviews
On a resume, a summary statement almost appears to be a short paragraph. In truth, all you're focusing on are two brilliant lines that indicate your strengths, experience, and accomplishments. It's a tall order for a short span of text, but you can do it. A well-crafted summary statement gets the recruiter's attention.
While you're thinking about creating a compelling summary statement, here are our best tips for writing a professional resume. They'll help you button everything up and finish with a bright, shining document you'd be proud to pass around the web. We can also show you what you need in an interview-winning resume and cover letter.