verb
The definition of activate means to start something.

An example of activate is when the "play" button is pushed on the DVD player and it starts to play the disk.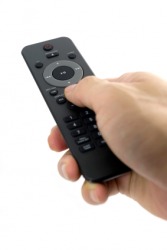 A remote is used to activate the DVD player.
---
activate definition by Webster's New World
transitive verb
activated, activating
to make active; cause to engage in activity
to put (an inactive military unit) on an active status by assigning personnel, equipment, etc. to it
to make radioactive
to make capable of reacting or of accelerating a chemical reaction
to treat (sewage) with air so that aerobes will become active in it, thus purifying it
Webster's New World College Dictionary Copyright © 2010 by Wiley Publishing, Inc., Cleveland, Ohio. Used by arrangement with John Wiley & Sons, Inc.
---
activate definition by American Heritage Dictionary
transitive verb
ac·ti·vat·ed
,
ac·ti·vat·ing
,
ac·ti·vates
To set in motion; make active or more active.
To organize or create (a military unit, for example): activate the National Guard.
To treat (sewage) with aeration and bacteria to aid decomposition.
Chemistry To accelerate a reaction in, as by heat.
Physics To make (a substance) radioactive.
Biology To convert (certain biological compounds) into biologically active derivatives.
Related Forms:
The American Heritage® Dictionary of the English Language, 4th edition Copyright © 2010 by Houghton Mifflin Harcourt Publishing Company. Published by Houghton Mifflin Harcourt Publishing Company. All rights reserved.
---
activate - Computer Definition
(1) See trigger.
(2) To interact with an activation server at the time copy-protected software is installed. The install program generates a code that is sent to the activation server, which responds with an authorization code that allows the software to operate. Without the authorization code, the software generally times out.