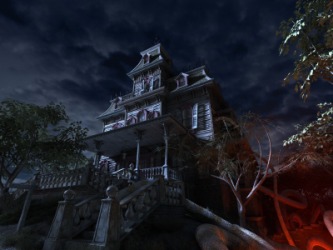 A haunted house.
---
haunted
adjective
frequented, inhabited, etc. by a ghost or ghosts
---
haunted
Adjective
(comparative more haunted, superlative most haunted)
Of a location, frequented by a ghost or ghosts.

The hotel was haunted by a disembodied spirit.

Obsessed (by an idea, threat, etc.).
Showing a feeling of being disturbed.

a haunted expression
Verb
simple past tense and past participle of haunt

According to local legend, a ghost has haunted the mansion for two hundred years.
---