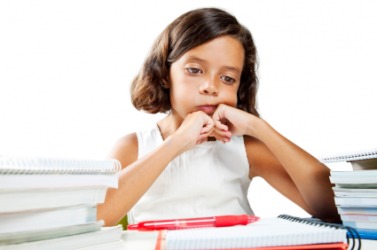 This child suffers from ennui.
noun
The definition of ennui is lack of interest or boredom.

An example of ennui is a child sitting in the house saying there is nothing to do.
---
ennui
weariness and dissatisfaction resulting from inactivity or lack of interest; boredom
Origin of ennui
Fr: see annoy
---
ennui
noun
Listlessness and dissatisfaction resulting from lack of interest; boredom: "The servants relieved their ennui with gambling and gossip about their masters" ( John Barth )
Origin of ennui
French
from
Old French
enui
from
ennuyer
to annoy, bore
; see
annoy
.
Word History:
Both
annoy
and
ennui
originate from the same Latin phrase. When the Romans wanted to say that they hated something, they used an idiom whose wording may seem a little unexpected for speakers of English:
mihi in odiō est,
which literally means "to me in a condition of dislike or hatred it is." Translated more idiomatically, the expression just means "I hate or dislike." The words
in odiō
("in hatred") in this idiom gave rise to the Vulgar Latin verb
*inodiāre,
"to be hateful or a source of trouble to, annoy," the source of the Old French verb
ennuyer
or
anoier,
"to trouble, annoy, bore." This verb was borrowed into Middle English by around 1275 as
anoien,
our
annoy.
The Old French verb
anoier
also gave rise to a noun, variously spelled
enui
and
annui,
meaning "chagrin, sadness." The Modern French form of this noun,
ennui,
came to mean "boredom, lassitude," and it was with this sense that the word was borrowed into English in the 1700s.
---
ennui

---