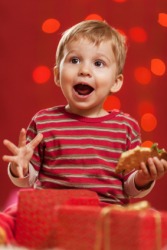 Excitement is what children feel at Christmas.
noun
Excitement is defined as a feeling of enthusiasm, eagerness or exhilaration, or is defined as something that causes such a feeling.

The way a child feels on Christmas morning waiting to open his presents is an example of excitement.
Christmas morning, which inspires exhilaration, is an example of an excitement.
---
excitement
an exciting or being excited; agitation
something that excites
Origin of excitement
Middle English from Old French
---
excitement
noun
a. The act or an instance of exciting.

b. The condition of being excited.

Something that excites: the dancing tigers and other circus excitements.
---
excitement

Noun
(countable and uncountable, plural excitements)
(uncountable) the state of being excited (emotionally aroused).
(countable) something that excites.
---