parcel

par·cel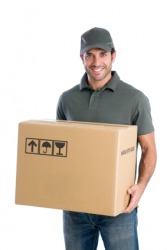 A man delivers a parcel.
noun
The definition of a parcel is a package, or a piece of land.

An example of a parcel is what the Fedex delivery person brings to a home.
An example of a parcel is an acre of land.
verb
Parcel is defined as to package or divide up.

An example of to parcel is to divide up the remaining cookies among the three children.
---
parcel
a small, wrapped bundle; package
a quantity or unit of some commodity put up for sale
a group or collection; pack; bunch: a parcel of fools
a piece, as of land, usually a specific part of a large acreage or estate
a portion or part: now only in

part and parcel

, an inseparable or essential part
Origin of parcel
Middle English from Middle French
parcelle
from Late Latin an unverified form
particella,
for Classical Latin
particula:
see particle
transitive verb
-·celed

or

-·celled

,

-·cel·ing

or

-·cel·ling
to separate into parts and distribute; apportion: with out
to make up in or as a parcel

Naut.

to wrap in parceling
---
parcel
noun
Something wrapped up or packaged; a package.
A plot of land, usually a division of a larger area.
A quantity of merchandise offered for sale.
A group or company; a pack: "this youthful parcel of noble bachelors" ( Shakespeare )
transitive verb
par·celed, par·cel·ing, par·cels,
also
par·celled
par·cel·ling
To divide into parts and distribute: parceled out the land to their three children.
To make into a parcel; package.
Nautical To wind protective strips of canvas around (rope).
Origin of parcel
Middle English
from
Old French
portion
from
Vulgar Latin
particella
diminutive of
Latin
particula
diminutive of
pars
part-
part
; see
perə-
2
in Indo-European roots.
---
parcel

Noun
(plural parcels)
An individual consignment of cargo for shipment, regardless of size and form.
A division of land bought and sold as a unit.

I own a small parcel of land between the refinery and the fish cannery.

An indiscriminate or indefinite number, measure, or quantity; a collection; a group.
A small amount of food that has been wrapped up, for example a pastry.
A portion of anything taken separately; a fragment of a whole; a part.

A certain piece of land is part and parcel of another piece.
Verb
(third-person singular simple present parcels, present participle parceling or parcelling, simple past and past participle parceled or parcelled)
To wrap a strip around the end of a rope.
To divide and distribute by parts or portions; often with out or into.
To add a parcel or item to; to itemize.
Adverb
(not comparable)
Tennyson

One that [...] was parcel-bearded.
---