noun
The definition of a package is a box or bag that contains items, or a set of things agreed to as a whole.

A big wrapped box with your Christmas presents is an example of a package.
The Stimulus Bill including a selection of different spending programs that all must be passed, are an example of a stimulus package.
verb
Package is defined as combining different things together as one, or to load and arrange items into a container.

When you put together a variety of different legal bills that have to be passed together, this is an example of when you package the bills.
When you get a box and start putting your belongings into it, this is an example of when you package your belongings.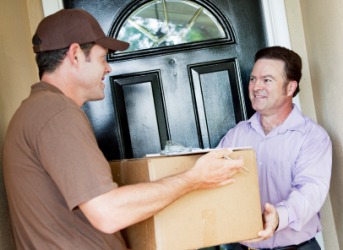 A package being delivered.
---
package
noun
Obsolete

the act or process of packing
a wrapped or boxed thing or group of things; parcel
a container, wrapping, etc., esp. one in which a commodity is packed for sale
☆ a number of items, plans, etc. offered or proposed as an inseparable unit
a self-contained component or unit, usually one that is already assembled
transitive verb
packaged, packaging
to wrap or box, as for transporting, carrying, etc.

to wrap or seal (a commodity) in a container, wrappings, etc. designed to attract purchasers
to otherwise offer in an attractive or enticing way as for commercial consumption: to package a political candidate

to put together or offer as a unit
adjective
designating or of a plan, offer, etc. by which a number of items are offered as an inseparable unit: package deal, package tour
---
package
noun
A wrapped or boxed object; a parcel: A package arrived in the mail.
A container or wrapping in which something is stored, transported, or sold: had trouble opening the package.
A commodity, such as food, contained in a package and sold as a unit: a package of peanuts.
A combination of items considered, offered, or sold as a unit: a vacation travel package.
Vulgar Slang A man's genitals.
transitive verb
pack·aged
,
pack·ag·ing
,
pack·ag·es
To place into a package or make a package of.
To present or publicize in a certain way: packaged his life story as a romance with a happy ending.
To consider, offer, or sell as a unit: packaged the furniture and the TV at a sale price.
Related Forms:
---
package
Noun
(plural packages)
Something which consists of various components, such as a piece of computer software.

Did you test the software package to ensure completeness?

The art of packing something.
Something resembling a package.
A package holiday.
A football formation. IE; the "dime" defensive package.
(computing) A piece of software which has been prepared in such a way so that it can be installed with a package manager.
Verb
(third-person singular simple present packages, present participle packaging, simple past and past participle packaged)
To pack or bundle something.
To travel on a package holiday.
---
package - Computer Definition
---
---