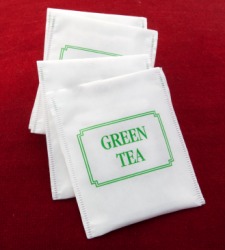 Packets of tea.
---
packet definition by Webster's New World
noun
Obsolete

a parcel of letters
a small package or parcel
packet boat

Brit., Informal

a large amount of money
Origin: Middle French paquet, diminutive of pacque, pack
transitive verb
to make up into a packet
Webster's New World College Dictionary Copyright © 2010 by Wiley Publishing, Inc., Cleveland, Ohio. Used by arrangement with John Wiley & Sons, Inc.
---
packet definition by American Heritage Dictionary
noun
A small package or bundle.
Informal A sizable sum of money.
A boat, usually a coastal or river steamer, that plies a regular route and carries passengers, freight, and mail.
A short block of data transmitted in a packet switching network.
Origin: Middle English pekette, probably diminutive of pak, pack; see pack1.
The American Heritage® Dictionary of the English Language, 4th edition Copyright © 2010 by Houghton Mifflin Harcourt Publishing Company. Published by Houghton Mifflin Harcourt Publishing Company. All rights reserved.
---
packet - Computer Definition
In the generic sense, referring to the manner in which data are organized into discrete units for transmission and switching through a data network.The data unit can be known as a block, frame, cell, or packet, depending on the protocol specifics. The packet comprises a header, payload, and sometimes a trailer, again depending on protocol specifics. The packet can be a user packet containing user data, or a signaling and control packet for various network monitoring, alerting and alarming, maintenance, and other administrative purposes. The payload can be a complete message, a fragment or segment of a message, or an aggregation of bits or bytes that form a short portion of a long data stream associated with a voice or video call. See also bit, block, byte, cell, data stream, fragment, frame, header, message, payload, protocol, segment, and trailer.
In a technology-specific sense, a packet is a data unit in an internetwork, such as the Internet or other packet-switched network in which routers interconnect networks and subnetworks to exchange traffic between nodes. In terms of the OSI Reference Model, a packet is defined in Layer 3, the Network Layer. Blocks, cells, and frames are defined in Layer 2, the Data Link Layer, and have local significance, only. See also block, cell, datagram, Data Link Layer, frame, Internet, Network Layer, OSI Reference Model, packet switch, and router.
Data travels along the Internet in packets that are sent individually across the network and then reassembled into the original data at the correct recipient address. Each packet is like a letter in that it has a sender and a receiver. When the packet reaches the correct receiver address, it stops traveling.
Every packet has the following fields: source IP address (such as 10.23.1.156); destination IP address; transport type (such as ICMP=1, TCP=6, UDP=17); source port and destination port (such as DNS=53, FTP=21, HTTP=80); and flags (such as SYN).
See Also: Encapsulation; Internet; Internet Protocol (IP); IP Address; Port and Port Numbers; Synchronize Packet (SYN).
Graham, R. Hacking Lexicon. [Online, 2001.] Robert Graham Website. http://www.linuxsecurity.com/resource_files/documentation/hacking-dict.html.
A block of data transmitted over a packet-switched network, which is the common architecture of all local area networks (LANs) and most wide area networks (WANs) such as the Internet. Packets are mostly TCP/IP packets, because TCP/IP is the global networking standard. The terms frame, packet and datagram generally refer to the same entity. See packet switching, frame and datagram.