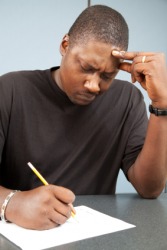 A man expressing anxiety while taking a test.
noun
Anxiety is defined as a feeling of being nervous or worried, often as a result of fear of a possible future event.

An example of anxiety is the feeling you get before a test for which you have not studied.

The definition of anxiety is an eager, strong desire.

An example of anxiety is how you might feel when wanting to succeed at a new job.
noun
Anxiety can be a symptom of mental illness characterized by feelings of nervousness or distress without a noticeable cause.

An example of someone who may feel anxiety is a person suffering from Post-Traumatic Stress Disorder.
---
anxiety
noun
pl.
-·ties
a state of being uneasy, apprehensive, or worried about what may happen; concern about a possible future event

Psychiatry

an abnormal state like this, characterized by a feeling of being powerless and unable to cope with threatening events, typically imaginary, and by physical tension, as shown by sweating, trembling, etc.
an eager but often uneasy desire: anxiety to do well
Origin of anxiety
Classical Latin
anxietas
from
anxius
, anxious
---
anxiety
noun
pl.
anx·i·e·ties
a. A state of uneasiness and apprehension, as about future uncertainties.

b. A cause of anxiety: For some people, air travel is a real anxiety.

Psychiatry A state of apprehension, uncertainty, and fear resulting from the anticipation of a realistic or fantasized threatening event or situation, often impairing physical and psychological functioning.
Eager, often agitated desire: my anxiety to make a good impression.
Origin of anxiety
Latin
ānxietās
from
ānxius
anxious
; see
anxious
.
---
anxiety

Noun
(plural anxieties)
An unpleasant state of mental uneasiness, nervousness, apprehension and obsession or concern about some uncertain event.
An uneasy or distressing desire (for something).

I was anxious to get into the office before Henderson called from New York.

(pathology) A state of restlessness and agitation, often accompanied by a distressing sense of oppression or tightness in the stomach.
Origin
From Latin anxietātem, from anxius ("anxious, solicitous, distressed, troubled"), from angō ("to distress, trouble").
---