chagrin

cha·grin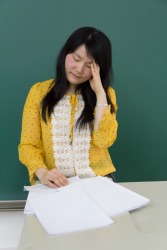 This woman is chagrined.
noun
The definition of chagrin is a feeling of embarrassment caused by failure or disappointment.

An example of chagrin is feeling frustrated because you didn't complete a course paper in time.
---
chagrin
a feeling of embarrassment or distress because one has failed or been disappointed
Origin of chagrin
Fr, grief, sorrow, vexation, probably from Norman
chagreiner
, to become gloomy (said of the weather) from Old French
graignier
, to sorrow from
graim
, sorrowful from Frankish an unverified form
gram
transitive verb
-·grined′

,

-·grin′ing
to cause to feel chagrin; embarrass or distress: usually in the passive voice
Origin of chagrin
Fr
chagriner
---
chagrin
noun
A keen feeling of mental unease, as of annoyance or embarrassment, caused by failure, disappointment, or a disconcerting event: To her chagrin, the party ended just as she arrived.
transitive verb
cha·grined, cha·grin·ing, cha·grins
To cause to feel chagrin; mortify or discomfit:
He was chagrined at the poor sales of his book.
See Synonyms at
embarrass
.
Origin of chagrin
French
possibly from
dialectal French
chagraigner
to distress, become gloomy
from
Old French
graim
sorrowful, gloomy
of Germanic origin
---
chagrin

Noun
(countable and uncountable, plural chagrins)
Distress of mind caused by a failure of aims or plans, want of appreciation, mistakes etc; vexation or mortification.
A type of leather or skin with a rough surface.
Usage notes
Often used in the form to one's chagrin.
Verb
(third-person singular simple present chagrins, present participle chagrining, simple past and past participle chagrined)
To bother or vex; to mortify.

She was chagrined to note that the paint had dried into a blotchy mess.

(intransitive) To be vexed or annoyed.
Usage notes
The verb form is rarely found in other than passive voice.
Origin
From French chagrin ("sorrow"). Prior to that, the etymology is unclear, with several theories – of Germanic.
From dialectical French chagraigner ("to be gloomy, distress"), from chat ("cat") + Old French graim ("sorrow, gloom; sorrowful, gloomy"), from Frankish gram, a loan translation of German Katzenjammer ("drunken hang-over"), from Katzen ("cats") + jammer ("distress, sorrow, lament"). Akin to German Gram , Old Norse gramr ("wroth") (whence Danish gram), Old English grama ("anger"), grim ("grim, gloomy") (Modern English grim).
Another theory derives French chagrin from the verb chagriner, in its turn from Old French grigner, which is of Germanic origin and cognate to English grin. . More at cat, grim, grimace, grin, yammer.
---