persist

per·sist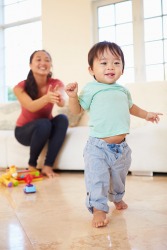 The baby persists, no matter how many times he falls down, in his pursuit to learn how to walk.
verb
Persist is defined as to refuse to give up or to continue to repeat an action.

An example of persist is a baby getting up after falling down over and over again.
---
persist
to refuse to give up, esp. when faced with opposition or difficulty; continue firmly or steadily
to continue insistently, as in repeating a question
to continue to exist or prevail; endure; remain
Origin of persist
Middle French
persister
from Classical Latin
persistere
from
per,
through +
sistere,
to cause to stand, reduplicated, reduplication of base of
stare,
to stand
---
persist
intransitive verb
per·sist·ed, per·sist·ing, per·sists
To be obstinately repetitious, insistent, or tenacious.
To hold firmly and steadfastly to a purpose, state, or undertaking despite obstacles, warnings, or setbacks.
To continue in existence; last: hostilities that have persisted for years.
Origin of persist
Latin
persistere
per-
per-
sistere
to stand
; see
stā-
in Indo-European roots.
Related Forms:
---
persist

Verb
(third-person singular simple present persists, present participle persisting, simple past and past participle persisted)
(intransitive) To go on stubbornly or resolutely.
(intransitive) To repeat an utterance.
(computing) To cause to persist; make permanent.
---