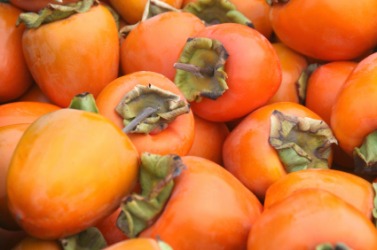 A pile of persimmons.
noun
The definition of a persimmon is a tree in the ebony family, or the fruit of such a tree.

An example of a persimmon is a Fuyu.
---
persimmon
any of a genus (Diospyros) of trees of the ebony family with white, cup-shaped flowers, hard wood, and yellow or orange-red, plumlike fruit
the fruit, sour and astringent when green, but sweet and edible when thoroughly ripe
Origin of persimmon
Virginia Algonquian
pessemins
, and the like
---
persimmon
noun
Any of various chiefly tropical trees of the genus Diospyros, having hard wood and orange-red fruit with sweet usually soft pulp, especially D. kaki, native to East Asia, and D. virginiana, native to the eastern United States.
The fruit of any of these trees.
Origin of persimmon
From
Virginia Algonquian
pessemmins, putchamins
(
as recorded in English-language accounts of Virginia from the early 1600s by John Smith and others
)
pesse-
of unknown meaning
-min
fruit, berry
(
from
Proto-Algonquian
-min
) (
compare
-mi·n
) (
in
Unami
xi·mi·n
persimmon
)
persimmon
Diospyros sp.
---
persimmon

Noun
(plural persimmons)
A type of fruit, of orange colour, very sweet, quite astringent when immature.
Origin
From Powhatan pichamins, pushemins, pasimenan ("dried fruit"), from the same Proto-Algonquian root *-min- ("fruit, berry") as Unami ximin.
---