interrogation

in·ter·ro·ga·tion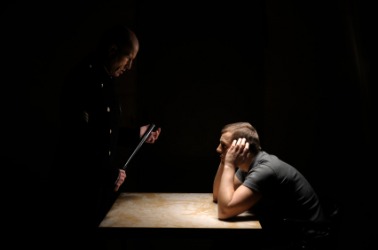 The interrogation of a criminal.
noun
The definition of an interrogation is a verbal questioning of someone.

When the police ask someone a series of tough questions to determine if he robbed a store, this is an example of an interrogation.
---
interrogation
an interrogating or being interrogated; examination
a question

Now Rare

interrogation mark
Origin of interrogation
Middle English
interrogacion
from Middle French
interrogation
from Classical Latin
interrogatio
---
interrogation

Usage notes
Preposition under is generally used for the person or matter that is being investigated; Johnny is under interrogation about the last night's events.
Origin
From Old French interrogacion, from Latin interrogatio
---
interrogation - Legal Definition
n
The detailed questioning of a suspect by the police or other law-enforcement authorities.
---