pretty

pret·ty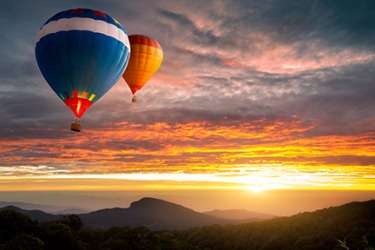 Hot air balloons flying during a pretty sunset.
adjective
The definition of pretty is someone or something that is attractive in a delicate way.

An example of pretty is a nice sunset.
An example of pretty is actress Ellen Page.
adverb
Pretty is defined as fairly or somewhat.

An example of pretty is someone having a somewhat good time at a party.
---
pretty
adjective
-·tier

,

-·ti·est
pleasing or attractive in a dainty, delicate, or graceful way rather than through striking beauty, elegance, grandeur, or stateliness

fine; good; nice: often used ironically: I'm in a pretty fix
adroit; skillful: a pretty move

Archaic

elegant

Now Chiefly Scot.

brave; bold; gallant

Informal

considerable; quite large: a pretty price
Origin of pretty
Middle English
prati
from Old English
prættig
, crafty from
prætt
, craft, trick
fairly; moderately: pretty sure

Informal

quite or very: pretty angry

-·tier

,

-·ti·est

Informal

prettily: to talk pretty
noun
pl.
-·ties
a pretty person or thing
transitive verb
-·tied

,

-·ty·ing
to make pretty: usually with up
pretty nearly
mostly, almost, more or less, etc.:
I used up pretty nearly all of the flour
also
Informal
pretty much
[
the spoiled child does
pretty much
what he wants to do
]
sitting pretty
Slang
in a favorable position
---
pretty
adjective
pret·ti·er, pret·ti·est
Pleasing or attractive in a graceful or delicate way. See Synonyms at beautiful.
Clever; adroit: a pretty maneuver.
Very bad; terrible: in a pretty predicament; a situation that has reached a pretty pass.
Ostensibly or superficially attractive but lacking substance or conviction: full of pretty phrases.
Informal Considerable in size or extent: a pretty fortune.
adverb
To a fair degree; moderately: a pretty good student.
In a pretty manner; prettily or pleasingly.
noun
pl.
pret·ties
One that is pretty.
pretties Delicate clothing, especially lingerie.
transitive verb
pret·tied, pret·ty·ing, pret·ties
To make pretty: pretty up the house.
Origin of pretty
Middle English
prety
clever, fine, handsome
from
Old English
prættig
cunning
from
prætt
trick
Related Forms:
---
pretty

Adjective
(comparative prettier, superlative prettiest)
Pleasant in sight or other senses; attractive, especially of women or children. [from 15th c.]
Of objects or things: nice-looking, appealing. [from 15th c.]
(often pejorative) Fine-looking; only superficially attractive; initially appealing but having little substance; see petty. [from 15th c.]
(dated) Moderately large; considerable. [from 15th c.]
(dated) Excellent, commendable, pleasing; fitting or proper (of actions, thoughts etc.). [from 16th c.]
(ironic) Awkward, unpleasant. [from 16th c.]
Usage notes
When particularly stressed, the adverb pretty serves almost to diminish the adjective or adverb that it modifies, by emphasizing that there are greater levels of intensity.
Noun
(plural pretties)
Something that is pretty.

"We'll stop at the knife store a look at the sharp pretties.
Verb
(third-person singular simple present pretties, present participle prettying, simple past and past participle prettied)
To make pretty; to beautify
Origin
From Middle English prety, preti, praty, prati, from Old English prættiÄ¡ ("tricky, crafty, sly, cunning, wily, astute"), from Proto-Germanic *prattugaz ("boastful, sly, slick, deceitful, tricky, cunning"), corresponding to prat ("trick") +"Ž -y. Cognate with Dutch prettig ("nice, pleasant"), dialectal German (East Friesland) prettig ("funny"), Low German pratzig ("arrogant, boastful, haughty"), German protzig ("showy, ostentatious, swanky, pretentious"), Icelandic prettugur ("deceitful, tricky"). For the sense-development, compare canny, clever, cute.
---