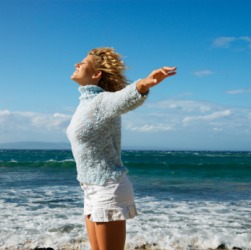 A woman delighted by the beautiful day.
adjective
The definition of delighted is you feel great pleasure or joy.

When you are really happy to receive a present, this is an example of a time when you might be described as delighted.
---
delighted
highly pleased; happy

Obs.

delightful
---
delighted
adjective
Filled with delight.
Obsolete Delightful.
Related Forms:
---
delighted

Adjective
(comparative more delighted, superlative most delighted)
Greatly pleased.
Verb
simple past tense and past participle of delight
---