fluff

fluff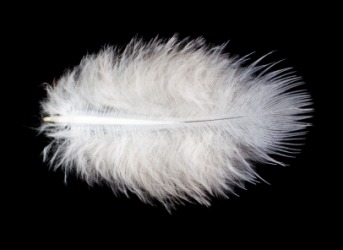 A little piece of fluff.
noun
The definition of fluff is a loose, soft and light substance.

An example of fluff is a handful of feathers.
An example of fluff is cotton pillow fill.
verb
Fluff is defined as to shake until loose and light, or make a mistake.

An example of fluff is shaking a pillow until the filling is evenly spread inside.
An example of fluff is saying the opposite of what you mean to say.
---
fluff
soft, light down
a loose, soft, downy mass of hair, feathers, cotton, dust, etc.
any light or trivial matter or talk
an error in speaking or reading a line
Origin of fluff
uncertain or unknown; perhaps blend of flue + puff
to shake or pat until loose, feathery, and fluffy
to make an error in speaking or reading (a word, one's lines, etc.)
to make a botch of; flub
to become fluffy
to make a mistake
bit of fluff
Slang
a girl or young woman: now often regarded as patronizing
---
fluff
noun
Light down or fuzz, as on a young bird or on a dandelion or milkweed seed.
Something having a very light, soft, or frothy consistency or appearance: a fluff of meringue; a fluff of cloud.
Something of little substance or consequence, especially:

a. Light or superficial entertainment: The movie was just another bit of fluff from Hollywood.

b. Inflated or padded material: The report was mostly fluff, with little new information.

The parts of a junked car that are not metal and cannot be recycled.
Informal An error, especially in the delivery of lines, as by an actor or announcer.
verb
fluffed, fluff·ing, fluffs
verb
transitive
To make fluffy: fluff a pillow; a squirrel fluffing out its tail.
Informal

a. To ruin or mar by a mistake or blunder: They fluffed their chance to participate in the playoffs by losing their last three games.

b. To forget or botch (one's lines).

Vulgar Slang To cause (a man) to be sufficiently aroused so that he is able to have sexual intercourse, especially in a pornographic film.
verb
intransitive
To become fluffy.
Informal To make an error, especially to forget or botch one's lines.
Origin of fluff
Origin unknown
Related Forms:
---
fluff

Noun
(plural fluffs)
Anything inconsequential or superficial.

That article was basically a bunch of fluff. It didn't say anything substantive.

(New England) marshmallow creme
Verb
(third-person singular simple present fluffs, present participle fluffing, simple past and past participle fluffed)
To make something fluffy.

The cat fluffed its tail.

(intransitive) To become fluffy.
(intransitive, of an actor or announcer) To make a mistake in one's lines
Origin
Onomatopoeic. Compare Japanese フワフワ (fuwafuwa, "lightly, softly"), Hungarian puha ("soft, fluffy").
---