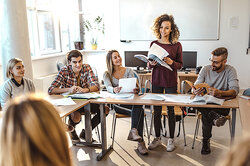 Whether you're standing up in front of class or getting ready to speak to a huge audience, knowing how to write a memorable speech will make or break the experience. Use these tips and helpful resources to make your speech one everyone will remember for years to come
Before You Write Your Speech
Before you begin writing, take some time to brush up on the basics of speech writing. Having the basics down will let you focus on making your speech powerful and memorable.
Write a quick keyword outline of what you plan to cover. Don't worry about going into detail; this is just to give you an idea. Later, you can use this helpful tool when you actually deliver your speech, too.
Think About Your Technique
Consider the techniques you plan to use. For instance, an inductive technique, in which you pose a question and then answer it, can help you write a memorable persuasive speech.
Gather quotes to use in your speech if you plan to include these. A great quote can grab listeners' attention. Consider adding quotes about life lessons, important words from a favorite author, and other words of wisdom.
Refresh Your Best Writing Skills
Just like most skills, it makes sense to refresh your memory before you write. Read up on tips for finding the right words so you can say things exactly the way you want to say them. Remember to use transitional words to help your speech flow smoothly from one section to the next.
Making Different Types of Speeches Memorable
After you've done your preparation, it's time to delve into the actual process of writing your speech. The way you make it memorable will depend on the type of speech you're planning to give.
Informative Speech - Anything But Boring
An informative speech is all about educating and passing information along to your audience. This means you need to engage your listener to keep from being boring. As you write an informative speech, pay special attention to audience interaction. No matter what your informative speech topic, these tips can help:
Present one or two shocking statistics to engage your audience.
Offer "little known" facts about your topic so your audience can feel in the know.
Connect the information you're presenting to your listeners' daily lives.
Ask rhetorical questions to prompt your audience to think about the topic.
Persuasive Speech - Keep Them Engaged
Writing a persuasive speech is all about convincing your audience to believe your opinion on a topic. Whether you're writing a high school persuasive speech, a persuasive speech for college, or a speech for an election or other event, the key to making this type of speech memorable and effective is engaging your audience. These tips can help:
Get rid of any extra fluff. Make your argument as short as possible. You can even write a one-minute persuasive speech that's very effective.
Convince your listeners that the topic affects them. Make it personal with local facts and real world anecdotes.
If you're writing a motivational speech, take the perspective of your audience. Know what they care about so you can get them motivated.
Make sure your speech fits the audience. For instance, a school election speech needs to speak to the needs of students at the school.
Special Occasion Speech - Make It Personal
You'll find there are many occasions in life when you need to give a speech. Whether you're writing a graduation speech or coming up with another type of commemorative speech, the most important thing to remember is to keep it personal. People remember speeches that are specific and fit the situation at hand. Yours can be memorable with these tips:
Deliver Your Speech With Poise
When you're done writing, take a few moments to practice your speech out loud. This will give you the confidence you'll need when the big day arrives. Then, brush up on tips for giving a great speech so you feel poised and calm in front of a crowd. You've worked hard to make this a speech everyone will remember, and your effort will show.